Talapo Uiva'a is an analyst working for External Investment and Partnerships with the New Zealand Super Fund. He was offered the role after completing a TupuToa internship programme for Māori and Pacific tertiary students. Talapo is a co-founder of Navigators of Success inspiring and connecting Māori & Pacific students at the University of Auckland with career pathways and opportunities.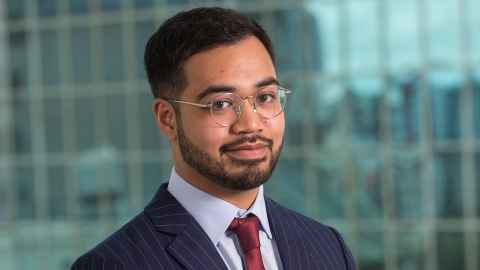 Imagine the University's Fale Pasifika on a warm, autumn evening brimming with Māori and Pacific students mingling alongside representatives from companies like the BNZ, PwC, Deloitte, KPMG, Vodafone, BECA, XERO and Fletchers. 
As the students talk with business leaders and employers they are given information on all sorts of future job opportunities, internships and clerkships they may never have dreamed were possible.
"We've filled up the Fale a couple of times and had a lot of professionals on campus,"  says Talapo Uiva'a, a co-founder of Navigators of Success which organises events like the one described above.
As well as career evenings, Navigators of Success runs events such as panel discussions on the Māori and Pacific economy and job opportunities in the Pacific.
"We basically present opportunities and networks to Māori and Pacific students in a way they can relate to," says Talapo.  "We didn't see anyone else doing that."
Talapo grew up in Auckland with his Samoan parents both working hard as taxi drivers to ensure he and his younger brother could have a university education.  But once he got on campus and began a Law/BCom conjoint degree, he realised he had little understanding of the opportunites that might be available to him once he graduated.  
"All I knew at uni was that I could become a lawyer; I didn't know there were a lot of roles I could do."
As Talapo talked with other Pacific and Māori students, he realised there was a gap in helping them understand and take advantage of the diversity of roles available.  And there were plenty of barriers:  "lack of confidence, lack of awareness of opportunities and systematic issues that stop Māori and Pacific achieving – even though they might be doing well in the tertiary education system".
Talapo himself, who majored in Finance for his BCom, only realised late in his degree he could make it his career rather than Law. Unable to find a job initially, he successfully applied for a Prime Minister's Scholarship for Asia and worked for a Private Equity firm in Vietnam for two months.
"I got real world exposure in a foreign country, which really accelerated my learning and passion for the industry." 
On return Talapo was fortunate to be offered a TupuToa internship and then job with the Superfund, but he didn't forget the gap he'd seen in career information for fellow students.  He used connections he made in this role and brought in another friend working in the corporate world. Together they co-founded Navigators of Success. 
Talapo is also the first former TupuToa student on the Board which governs strategy for the TupuToa programme.  (This programme aims to reduce inequalities and disrupt intergenerational disadvantage in Māori and Pacific communities and support organisations to successfully recruit and onboard Māori and Pacific peoples).
"It's cool being on the other side of the TupuToa programme and being able to offer a young Pacific person's lens on the board," says Talapo.
Talapo's brother will soon graduate as a doctor and he is ever mindful of the sacrifice his parents have made to enable their two sons to succeed.  
"My parents have played the biggest part in shaping a lot of my values and principles which ultimately guide my decisions," says Talapo. 
"Now I can express my gratitude to them for my degree and job by helping young people who have had similar experiences to me."