Managing Director and Pastry Chef - BEAU Bakery.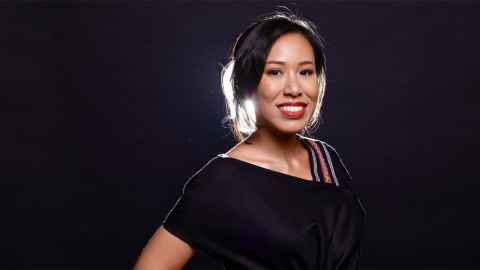 Talita Setyadi says she "escaped" to NZ from Indonesia. Arriving with her family at the age of 9, it was the end of the Suharto era, the Indonesian economy had collapsed and the country had suddenly become an unsafe place to live.
Arriving in May, and not speaking a word of English, it was the middle of winter, cold and uninviting for someone used to Indonesia's year round tropical climate.
Discovering music during her time at high school, something which she says gave her "freedom of expression" as well as excelling at maths and sciences, Talita quickly developed a love of jazz and in particular the double bass; often considered one of the most difficult jazz instruments to master.
Opting to study a Bachelor of Music in Jazz Performance, and learning that grit and discipline are necessary qualities for success, it was one quite unrelated aspect of her time at university that was to lead to a rather unexpected outcome.
"When we would turn up for practice sessions at the University I would also bake some cupcakes to bring with me to share around.  Date scones and banana chip muffins were a particular favourite amongst my friends."
For Talita, there's actually an interesting, if not obvious relationship between baking and jazz.
"Both involve the satisfaction of creating something out of nothing to delight the senses. Baking allowed me to be creative and I wouldn't have learnt to be creative without jazz."
After completing her degree, what happened next was all the more intriguing and surprising; even for Talita.
I decided that I wanted to further my career in baking.
Honing her skills in French Cuisine and Patisserie at Le Cordon Bleu Paris and graduating top in her class, even beating out several local French students for line honours, her next step seemed obvious: return home to Indonesia to train and cultivate local talent to create a standard of baking that would be nothing like the country had ever experienced.
The decision involved setting some ambitious goals.
"Not much had changed in the baking scene in decades in Indonesia and the market was ready for a bit of disruption. I decided I was going to be the one to make that happen but I didn't want to be working for someone else, I wanted to start my own business using my training as a French Pâtissiere. My other goal was to offer customers nothing but natural taste, avoiding any artificial colouring and preservatives. As I saw it, the business was also the perfect platform to use my creative talents."
Also driving her forward were many 'old' entrenched attitudes, complaints about the lack of local talent, and poor understanding about service and quality.
"I wanted to be a pioneer, to inspire young people to eventually run their own businesses."
Continuing to break new ground, last year Talita participated as President of Team Indonesia and judge in the prestigious 'Coupe du Monde de la Pâtisserie', noting it was also the first time that an Indonesian entry had qualified for the contest since its establishment in 1989. Twenty-two teams entered the event in Lyon, each composed of specialists in sugar, chocolate and ice cream with everyone challenged to a 10 hour test.
These days dubbed as Indonesia's 'Queen of Pastry', future plans include more café expansions in Jakarta while eventually considering available possibilities in the tourism mecca of Bali as well as  exploring local Indonesian products and continuing to develop vegan and gluten-free products.
Also on the drawing board are plans to build an internationally accredited Culinary School in Indonesia to encourage innovation and promote higher hygiene and operational standards along with a dream to one day build eco hospitality schools in rural parts of Indonesia advocating organic farming, permaculture and farm-to-table concepts.
For Talita, the biggest learning through all of this has been overcoming what she describes as a "wall of negative beliefs" imposed by others to do with her gender, youth, skill level, as well as the business landscape and quality of labour in Indonesia.
"Once I broke through and made the decision to be positive and believe in my own capability to achieve great things, all those nay-sayers fell away and they are no longer part of my circle of influence. I am able to create the career, business and company culture that I had always wanted. It's a culture that overlooks the superficiality of age, gender and background, and instead focuses on developing potential, morals and characters in our people to be the best."
But she says none of this would have happened without her degree.
"It was during my time at University I was able to feel the satisfaction of following my passion and embracing my uniqueness. I was also afforded the freedom to explore and express myself creatively through collaboration with fellow students and professors. Through continuous daily instrument practice, I also gained the disciplinary habits to diligently master any new skill which is vital to continuously expand and grow our professional skill sets. I find that being a pastry chef / business owner, I'm able to be just as creatively minded as I had been during my studies in jazz composition and improvisation."
So next time you're visiting Indonesia you're just as likely to find Talita behind the double bass in one of her cafés as you are to find her behind the bench in her kitchen masterminding her latest culinary masterpiece. The unlikely pairing of baking and jazz has certainly proven to be a winning combination.