Tan Copsey has been working in the climate change arena since university. He is currently Senior Director, Projects and Partners, at Climate Nexus, a US organisation focused on communicating climate change impacts, and before that, was communications director of the Risky Business Project. He was head of communications for the Global Commission on the Economy and Climate and as research manager for the BBC's Climate Asia Project, undertook a massive survey of climate change understanding in Asia. He has also worked for chinadialogue and openDemocracy.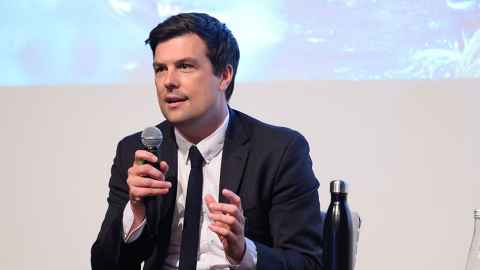 "I have a little bit of an anti-authoritarian streak," says Tan Copsey. "I don't do well when someone tells me to just do something." It's a streak that has led to a career fighting on the front lines of the war that threatens all of us.
Tan's interest in the impacts of climate change began at university, where he did his Masters about New Zealand's climate change policy.
"This was back in 2005 and I got a real sense at that point that it was interesting, very vibrant and an area that would be absolutely essential – and, frankly, full of lots of jobs for the next 20-30-40 years."
Tan was right. He has worked for non-profit organisations and as a researcher. He has been in meetings with global leaders, CEOs, two former US Secretaries of the Treasury, one former president, billionaire philanthropists and politicians.
As head of communications for the Global Commission on the Economy and Climate, he sat down with economists Jeremy Oppenheim, Michael Jacobs and Nicholas Stern to write the influential report Better Growth, Better Climate: The New Climate Economy.
Prior to joining Climate Nexus, Tan worked with former New York City mayor Michael Bloomberg, former US Secretary of the Treasury Hank Paulson and billionaire philanthropist Tom Steyer on the Risky Business Project, which examined the economic risks and opportunities of climate change in the US.

While all the work he has done has been in the climate change space, Tan has pivoted into a variety of roles within that arena and he credits one particular aspect of writing his Masters with fostering this flexibility – talking to people.
"Getting to know who thinks what and why and being willing to ring them up or go and see them was absolutely crucial for everything I did afterwards.
"I was never shy, but the idea that you could just talk to the important people who made the decisions; when I was in my late teens or early 20s, it hadn't really occurred to me."
He is proud of "each piece of work" he has done, even though it can be difficult to assess its impact. When you are working at the political level, "things don't always last". The Risky Business Project, for example, had been gearing up for the incoming Clinton administration.
But it is possible to stay positive, says Tan, because in a huge country like the US, "what's happening at the federal level isn't always what's happening at the state level". After the Trump administration withdrew from the Paris Agreement, Climate Nexus put together We Are Still In, signing up politicians and business leaders across America.
Tan's next project is Bailout Watch, which monitors the stimulus money going into the US economy. Even he seems surprised at the speed of its success. "There was a congressional oversight hearing last week where they sighted some of our research."
"I think that longer term, I would like to build my own organisation, but when I say that, maybe I just want to do more of these sorts of projects that have impact in the real world."