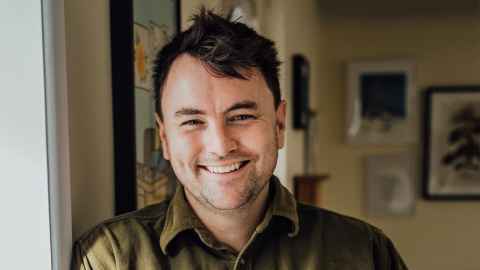 Discovering his creative talents at a young age, Thomas Sainsbury readily admits to putting them to good use early in his life.
Accompanying his parents to a production of Little Shop of Horrors by the Matamata Operatic Society when he was just 9 inspired him to write a sequel.
The cult musical's mix of "comedy, music and horror" was the perfect combo for a budding writer / director prompting his teacher to invite him to organise a performance for the school assembly.
The experience would quickly cement a passion for live theatre.
Growing up on a dairy farm was the perfect environment for Thomas to nurture his creativity and explore ideas.
"As my parents were always away working on the farm it gave me lots of time to watch videos. I would binge watch anything I could get my hands on from Fresh Prince of Bel Air to Star Wars and then I would try and re-create it either in my bedroom or in my head."
Encouraged by his mother, an English teacher and a librarian, books were always in plentiful supply as a source of ideas and the chance to escape into other worlds.
Working with Taika Waititi and then Jermaine Clement taught me how important a personalised artistic aesthetic is.  
Enrolling in a Bachelor of Arts majoring in Theatre and English Literature was a life-changing experience of Thomas.
"One lecturer in particular, Stuart Young, who took me for 20th century theatre, introduced us to wonderfully vital play scripts and styles of theatre-making. It completely transformed my concepts of art and storytelling."
Once again there was no time to waste putting his newfound inspiration to work forming Fingerprints and Teeth Productions and writing and directing his own plays in various 'underground' venues around Auckland.
Having access to a huge array of resources allowed Thomas to refine his artistic tastes and explore a whole new world of creativity.
"Suddenly I had access to literally thousands of films, and millions of books. I would regularly spend hours in the audio-visual library or upstairs in the main library indulging my obscurest of interests. I could watch a bizarre Brazilian film between my morning lectures and then read all about the weirdest of societies in the afternoon. It really gave me such a wealth of artistic history."
Leaving university with no clear plan but eventually finding his 'tribe' has meant opportunities to collaborate with some of the best in the business.
"Working with Taika Waititi and then Jermaine Clement taught me how important a personalised artistic aesthetic is. They are uncompromising in their vision and I have learnt so much from them."
With a list of credits that includes co-writing the political thriller Something is Rotten which has been published in Denmark, Sweden and Australia as well as acting roles in feature films including Pork Pie, Waru and Baby Done as well as appearances on Shortland Street and Jono & Ben it was an unlikely short form video production satirising politicians on Snapchat in 2017 that saw Thomas rise to prominence in a way he hadn't expected.
"I started off doing the videos just for friends. But then my agent suggested I make a public Facebook page for them. And they just took off. The success was completely unplanned and a huge surprise to me."
Making movies, writing a few more books, having a TV show and producing more music all remain on the to-do list but Thomas says he's learnt to pace himself.
"I'm still learning that perfectionism is very debilitating. 80 percent is fine on occasion. I've also learnt (and am still learning) that there is nothing universally loved or hated. Even my most popular work has had its haters and my most derided work has had people who love it. You can't make everyone happy so just keep going and forget about them."