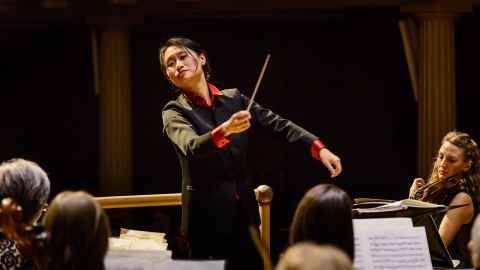 Watch Tianyi Lu in action and you soon realise she was born to be a conductor.
Her grace and presence on stage and her obvious passion for music makes you realise this is someone who is clearly "living the dream."
But Tianyi is the first to admit her introduction to conducting started by accident.
"Initially my dream was to become a film composer. I loved the epic orchestral soundtracks of John Williams, Hans Zimmer and Howard Shore and I was studying composition at the University of Auckland. During my second year I wrote a piece for my high school orchestra. My former teacher Peter Thomas said 'Why don't you conduct it? It's your piece.' He showed me the basic patterns; I had a little moment of panic, then discovered that I absolutely loved it. "
It was then Tianyi realised she had found her true calling as a conductor.
Born in Shanghai, China, she and her parents moved to New Zealand when she was five. Showing a strong interest in singing and dancing from an early age, Tianyi started learning to play the piano at 5, the flute when she was 13 and music quickly began to take over her life.
A high achiever at Epsom Girls Grammar and the school's first Arts Dux for some time, her parents, both electronics engineers, tried to steer her to what they considered to be a more "stable career" choice. But Tianyi had made up her mind. Conducting was where her future lay.
Completing a Bachelor of Music with First Class Honours at the University of Auckland, followed by post-grad study at the University of Melbourne and at the Royal Welsh College of Music and Drama where she was the Junior Fellow in Conducting, Tianyi knew that her 'accidental' introduction to conducting was meant to be.
Today she is Assistant Conductor of the Melbourne Symphony Orchestra, a Dudamel Fellow with the Los Angeles Philharmonic Orchestra and regularly guest conducts orchestras around the United Kingdom, United States and New Zealand. Recent engagements have included concerts with the RWCMD Symphony Orchestra, Dallas Opera Orchestra, Bristol Metropolitan Orchestra as their formal Music Director, Manukau Symphony Orchestra and Auckland Philharmonic Orchestra Summer School.
Tianyi believes music is a way we communicate without words. It's what gives life meaning, pointing out that no great music occurs without risk taking; as Benjamin Zander highlights in his book The Art of Possibility.
"It has the power to console or to uplift us as well as the ability to transform. Beethoven and Mozart were pop musicians of their time and I believe they still have relevance today to a much wider audience than we currently attract. There are also fantastic contemporary pieces being written that explore the incredible palette of colours an orchestra is able to create."
Conducting though remains a very male dominated profession and Tianyi believes a lack of role models for other women has contributed to low numbers of female conductors. But with more and more female conductors such as Simone Young, Xian Zhang and Sian Edwards taking the podium, that trend is set to change.
"When I started, I didn't see any female conductors. So the thought did not even cross my mind that I could be one. However, as more and more female conductors are emerging, I hope younger women will see it as a real career option.