Tupe Solomon-Tanoa'i is the Chief Philanthropic Officer at Michael & Suzanne Borrin Foundation. She has worked as an international civil servant and has represented New Zealand's interests as a diplomat. Tupe is the writer and producer of a web series tackling themes of unconscious bias, diversity and inclusion.
There is one small moment in the high-flying diplomatic and civil service career of Tupe Solomon-Tanoa'i that she will never forget.
Tupe was working for the former National Government's Education Minister, Hekia Parata, when the MP rallied her team.
"I still remember the day she called everyone into the office and asked me to give a 10-minute workshop on how to pronounce my name correctly," says Tupe. "As a result, all my colleagues, palagi included, learnt how to say my name with beautiful Samoan pronunciation.
"After years of having my name butchered, it was the sweetest sound!"
Tupe who is part Samoan, Fijian and Kiwi has been so aware of the unconscious bias she has faced in her career and the diversity she wishes to see in the working environment that she has written and created an independent web series called Misadventures of a Pacific Professional. She calls it a "labour of love" and produced it with the help of her husband Esera and their company Poporazzi Productions, which aims to tell Pacific stories.
For Tupe and Esera the series has already been a triumph. It was incorporated into an ethnic pay-gap master-class taken by 60 public service chief executives and it was nominated for Best International Drama at the 2020 Melbourne Web Fest.
Tupe grew up in a family that always expected and encouraged her to have a tertiary education. Her mother went to university as an adult student and with her father, started several businesses including a private training establishment.
But it wasn't just Tupe's parents who provided inspiration.
"My older brother generously worked early shifts at the airport to help contribute towards my university studies."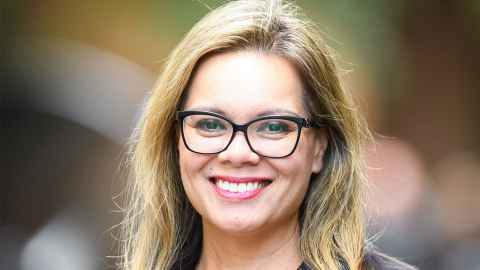 Tupe always thought she would study medicine at University but a chance conversation with her father in Year 12 about the opportunities that came from working for the Ministry of Foreign Affairs and Trade (MFAT) resulted in a switch to law.
"English and languages were always my strengths, so I went to uni with the specific intention of becoming a diplomat."
She graduated with a BA/LLB(Hons) in 2006, and received the 2002 Senior Prize for French. The fact that she became fluent in Mandarin meant working for MFAT became a foregone conclusion. She was offered a dream role that included postings to Taiwan, coordinating the team that successfully negotiated a groundbreaking economic agreement between New Zealand and the Separate Customs Territory of Taiwan, Penghu, Kinmen and Matsu.
"I really enjoyed my time at MFAT," says Tupe. "Not long after I started I was sent to the World Trade Organisation (WTO) in Geneva. Very quickly you are given responsibility and encouraged to contribute to discussions and negotiations. Those experiences taught me a lot."
While in Taiwan Tupe was also the driving force behind the inaugural Matariki Festival, the first of its kind in Asia, to promote NZ culture, music and film as well as showcasing NZ businesses and products.
More recently Tupe has been appointed Chief Philanthropic Officer at the Michael & Suzanne Borrin Foundation, a philanthropic organisation set up by the late Judge Ian Borrin. She says the Borrin family's sense of profound gratitude to NZ resonates deeply with her and she is inspired by Judge Borrin's desire to give back in a way that catalyses transformational change.
"I chose law as my discipline to contribute to a just, inclusive, tolerant and free society. After a career in policy, it's a tremendous privilege to work alongside talented Borrin "doers" – the individuals and organisations who are helping to achieve this vision."