Tyla Vaeau was named the winner of the Creative New Zealand Emerging Pacific Artist award in 2019. Of Sāmoan decent, Tyla has dedicated much of her practice to researching the cultural, historical and spiritual significance of tatau and motifs and is the first Sāmoan female tattooist to be gifted the 'au (customary Samoan tattooing tool).
Tyla Vaeau is one of only a few qualified female tatau practitioners in a domain that has traditionally been male-dominated.
From a young age, Tyla attended weekend art classes drawing flowers, particularly the hibiscus, and developing her own intricate patterns. In her final year at Western Springs College she was regularly called on by friends to draw their portraits.
Teachers played a big part in giving the emerging young artist the confidence to explore the artistic legacy within her Sāmoan culture.
"I was very fortunate to have Lily Laita as my art teacher. She regularly challenged my thinking and was a strong Pasifika role model I looked up to."
Tyla travelled to Samoa for the first time at the age of 19 to spend time with her elderly grandfather. It became a significant turning point and deepened her connection with her Sāmoan roots where tattooing has been continuously practised with indigenous techniques for more than 3000 years.
After graduating with a conjoint Bachelor of Arts in Art History and a Bachelor of Fine Arts from Elam School of Fine Arts in 2009, Tyla more recently completed a Master of Arts in Art History focused on Samoan tatau and its development within the Sāmoan diaspora as a travelling practice.
"I started tattooing in 2009 while I was undertaking my Masters. It was this position within tattoo/tatau that gave me access to specialists within my field of research and I was able to interview fellow tatau artists and tufuga tatatau for my thesis."
With guidance from tattoo artist Roger Ingerton in Wellington, Tyla has participated in several cultural tattoo festivals locally and internationally, including the Traditional Tattoo and World Culture Festival, Mallorca, 2017 and Tatau I Mo'orea Festival, Tahiti, 2018.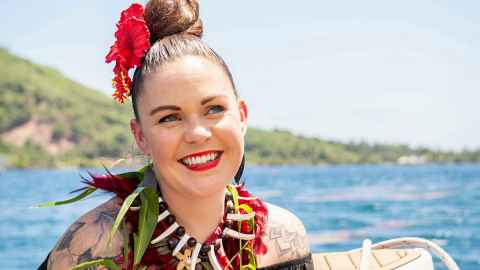 She is now based at the Vaeau Family Studio in Grey Lynn with her brother and fellow tattoo artist Hiram Fa'alia Vaeau.
"I aim to contribute to the cultural continuum of tatau and the process of learning customary Samoan tatatau under the teachings of renowned tufuga tatatau Su'a Sulu'ape Alaiva'a Petelo of Samoa."
She is also the first Sāmoan female tattooist to be gifted the 'au (customary Samoan tattooing tool) and apprenticed under the Sa Su'a Sulu'ape dynasty. In 2019 she was the only female Samoan artist to attend the Tatau Festival in Samoa and was awarded the Creative New Zealand Emerging Artist Award in the same year.
Tyla's father, who first influenced and encouraged her to start tattooing, displayed the ultimate vote of confidence in her talent when he became her first customer.
"He was my guinea pig when I very first started working with a tattoo machine and while my first effort wasn't that great, he still loves to show it off. My parents have certainly been my biggest supporters over the years. "
Tyla secured a Chancellors Award for Top Māori and Pacific Scholars, and acknowledges Dr Caroline Vercoe (Art History) for the role she played in supporting her post-grad studies.
"I don't think I would have gotten through it without her! She really shaped my thinking around research, methodology and the importance of indigenous research and writing."
Tyla has a goal to create space for the next generation of female Pasifika practitioners to emerge. She says in the Pacific there is a strong history of female tattooing, however, due to the processes of colonisation much of that history has been erased or forgotten.
"My Pasifika community is a key influence on my practice. I am driven by the needs and support of my people and I am honoured to be able to tautua (serve) and give back through the work that I do while supporting the revival of female tatau traditions."