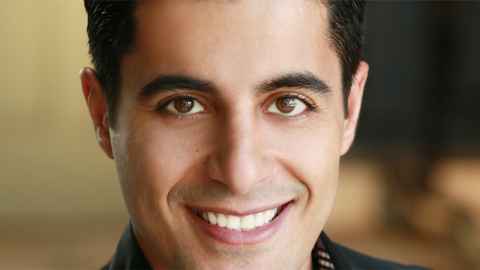 When both your parents are engineers and growing up everything around you from toys to activities has an engineering focus it's not surprising that your future pathway is likely to be... well engineering of course.
For Wared Seger, growing up in West Auckland wasn't about hanging out with the cool kids surfing at Piha or Muriwai, he had more important things on his mind; including contemplating what the future might look like.
"I figured out quite early that every human innovation that has impacted the world in some way is based on three key principles: Science, Technology and Entrepreneurship and this really helped me to establish my own future pathway."
Fast forward a few years and the cool kids might be wondering why they didn't do more of the same.
 
As CEO and founder of Parrot Analytics, which uses pioneering technology to help media, television and film companies pinpoint exactly where the demand is for their content, the business is at the leading edge of data analytics; a rapidly emerging field of data capture that is fundamentally changing the way we use and analyse data.
And the technology is increasingly attracting interest from local investors including the likes of K1W1 owned by Sir Stephen Tindall as well as international investors, media companies along with global television production companies where audience measurement is critical. Parrot Analytics' client roster includes the likes of HBO, Fox Networks and Warner Bros.
"I had a clear path to follow heading into university towards my areas of interest around Science, Technology and Entrepreneurship. Seeing the increasing importance of data made me realise the potential that existed to harness it in a way that created real value for organisations such as media companies who rely on audience data to measure their success."
Completing a Bachelor of Biomedical Science in neurobiology in 2009 followed two years later by a Master of Bioscience Enterprise, a programme which focused on taking Intellectual Property in life science to market, his thesis focused on founder success in biotech companies.
Throughout his studies Wared was involved with The University's start-up programme Velocity as well as its sister organisation Chiasma, where he served as CEO and Chair in 2011 and 2012. Chiasma's mission is to foster connections between science and business, connecting university students to the life-science and biotech industry in New Zealand.
"The key message that I really got out of Chiasma and Velocity – often via inspirational business leaders and innovators that were generous enough to share their stories with students – was anything is possible, so if you can dream it you can make it happen. My biggest drive is to create a better future for everyone and through programmes like Velocity and Chiasma, you kept hearing these stories and learning from these really successful entrepreneurs who had gone on to build a range of successful ventures. That inspiration factor was pivotal for me as well as the many lessons I learnt about developing ventures."
Wared has drawn on many aspects of The University of Auckland entrepreneurship ecosystem including Velocity, Chiasma, The ICEHOUSE and ICE Angles to launch Parrot Analytics.
It was the start of the journey that has seen him raise more than $8 million in capital funding to develop a range of innovative analytics products including Demand Expressions, a unique data tool that allows acquisition, production, and marketing executives to gauge market interest in specific TV programs and genres in real time across all platforms. The level of demand can be determined globally or locally.
But it's the growing interest in Artificial Intelligence or AI that is now catching Wared's attention.
"I believe AI will have a greater impact on our generation than any other single technology you care to mention. It may help or in some areas not help our future, but whichever way you look at it it's going to be a game changer and we need to be preparing for it."