William Lockie earned a Bachelor of Commerce and Graduate Diploma at the University of Auckland, majoring in Marketing, Management and Entrepreneurship. But for him, learning at university was just as much about the things he did around his courses – from his role in the University's Velocity Entrepreneurship Programme to the "side hustles" that helped pay the bills. Now, having quickly risen through the ranks at the burgeoning meal-kit business Woop, he's poised to embark on a new adventure.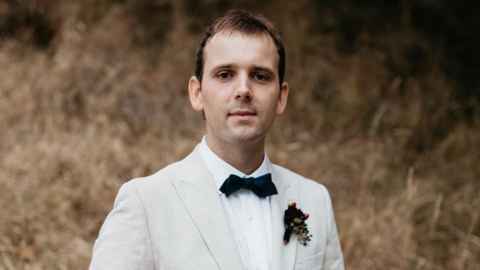 As a kid from a family of businesspeople and "passionate foodies", perhaps food was always going to be William Lockie's business destiny. If there was ever any doubt, his course was set at the University of Auckland when, rather than looking for part-time jobs, he preferred to create his own opportunities. It all began with macarons. One day he made a batch of 100 and shared them around.
"And the next thing I knew I was supplying a number of cafes, selling online and then weddings became a big thing."
Meanwhile, the kid who spent hours watching cooking shows and idolising Gordon Ramsay also found his way onto a cooking show himself, reaching the final of My Kitchen Rules. But by far the "the most impactful and educational experience for me at university" was his involvement with the student-led entrepreneurship programme Spark (now Velocity).
He joined Spark's volunteer organising committee, eventually leading it in his final year of university.
"I was student CEO, which was an amazing leadership experience. It was essentially a full-time job running a team of 25 people."
Having been a winner in Spark's $100,000 Entrepreneurship Challenge, he was now running it himself, managing people and budgets for a dozen educational events and two big competitions.
He was, it seemed, all set to go and start a business – and then he didn't. The offer of a place in Fonterra's graduate programme seemed too good to turn down.
"Fonterra taught me how to work, to be able to understand the rhythm of how a business operates, to see the dynamics of different teams and how they interact with each other. I got to see how different levels of management worked, I got to see the challenges of businesses that weren't performing, and I also got to meet a whole lot of amazing people."
But after two years, the point at which he'd be applying for management roles, it was time to go. He reconnected with Thomas Dietz, who he'd interned for as a student, and accepted a job as Marketing Manager for Dietz's new venture, Woop, soon ascending to the role of General Manager as the award-winning business expanded. Ironically, the work he's most proud of there came after he thought he'd be moving on.
"My wife and I were really excited by the opportunity of moving to London and we were all set to leave in July. But then Covid arrived. Prior to Covid, we had quite a good business, but post-Covid, we have an amazing business. The effort that it took to one day be operating as normal and the next day be operating in the middle of a pandemic was pretty phenomenal."
It was up to William to double the volume of Woop's operations – and its workforce – in a matter of weeks.
Now, the move is back on. He and his wife Beks land in London in December, "in the middle of the turmoil that's going on there, because we're just ready to make ourselves really uncomfortable again and try something new."
The plan is to find a role in a high growth food business there and return to New Zealand within five years to do the thing he was always going to do: start his own venture. And amid it all, he'll keep cooking. His favourite dish?
"If I was cooking on the weekend, that would be a crispy pork belly and panna cotta for dessert."