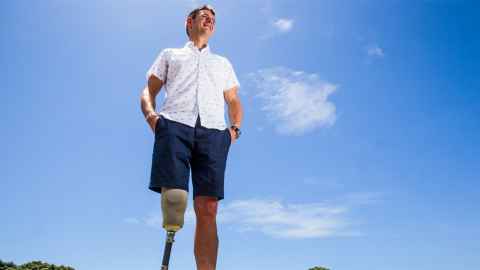 Becoming a teacher was never a career option William Pike had considered.
A three times national water polo champion at school, a keen sportsman and someone who loved the outdoors, his education was focused much more outside rather than inside the classroom, freely admitting that he "didn't take school too seriously."
Leaving school and securing a job at a local dive shop seemed a good fit with his interests until a friend suggested William join him at teachers college. With only marginally acceptable school grades, he was told he needed to "shape up or ship out." Within a few weeks he was hooked.
"After my first practicum I knew I had found my calling. There was this ability to share your passions and interests with students. Mine was obviously the outdoors which I had never thought about previously as something I could do as a teacher. I just knew I was going to make a better teacher than a student."
Graduating in 2006 with a Bachelor of Education with First Class Honours, William had kept his promise to the university's admissions department and secured his first teaching position at Clevedon School not knowing that just a year later his life would change in an instant.
25 September 2007 dawned fine and sunny. The perfect weather to explore Mt Ruapehu in the central North Island with his climbing companion James Christie. On their way back down the mountain, and with light fading, the pair decided to stay the night near the volcanoes' crater lake.
That evening, Ruapehu erupted, spilling a lahar of rocks, water and mud down its slopes and into their hut. Crushed and critically injured, William hung onto life while James ran down the mountain to get help. Eventually rescued, doctors called William's survival a miracle. But his crushed right leg had to be amputated below the knee. After a long series of surgeries and a gruelling rehabilitation, William learned to walk again with a prosthetic limb. He returned to the classroom – at Murrays Bay School – and eventually returned to the mountain.
Ten years after the accident, William climbed Mt Scott in Antarctica, one of four young adventurers chosen for the Inspiring Explorers Expedition led by the Antarctic Heritage Trust.
Reflecting on the eruption and how it changed the whole course of his life William remains philosophical.
"At the time I knew I was extremely lucky to be alive. Yes, I had been dealt a tough hand, but what I had been left with was a lot. Nothing was going to stop me. If anything, going through this process has helped me to understand people with disabilities. At the end of the day, they are still just a person."
If anything, the incident only increased William's passion for the outdoors leading to his decision to give up teaching and use his experience, and what he had been through, as the basis for a unique youth development programme aimed at primary and intermediate aged students called, appropriately enough, The William Pike Challenge Award.
"I wanted to mix my two passions for education and the outdoors and this seemed the perfect way to do it. The challenge is based on building and developing three core principles in students: resilience, capability and connectedness."
Piloting the programme in 2009 and receiving funding from the Tindall foundation for its expansion, almost 60 primary and intermediate schools around the country are now signed up for the challenge, as well as one school in South Korea.
William's determination to succeed without limits has been recognised with several awards including being named a KiwiBank Local Hero in 2014, a Young New Zealander of the Year finalist in 2015 and the recipient of a Blake Leader Award in 2017.
His book Every Day's A Good Day tells his inspirational life story so far; the title reflecting his outlook on life both before and after the accident.