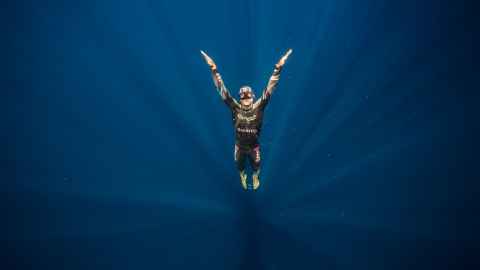 Every sport is unique, but freediving really is in a league of its own. There's the ever-present risk of fatality, the enormous stress on both your mind and body and the punishing physical training schedule required to stay in shape. It is not a sport for the faint hearted.
But for alumnus William Trubridge, free diving has become a passion in which he excels. He's currently the world record holder in the constant weight without fins disciplines, along with multiple other titles.  In 2010 he became the first person to break the 100m barrier, a depth he improved on by descending unassisted to 102m in 2016.
William's journey into the world of free diving began when at just eight years of age, when he and his older brother started competing over a summer to see how deep they could snorkel on the reefs of Vanuatu.
Initially it was just fun but by the time he had turned 22 and learnt more about the sport free diving took on a whole new meaning and purpose.
Graduating with a Bachelor of Science degree in Biology in 2000, William says his studies proved to be very beneficial for his career as a professional free diver.
"Studying for my degree allowed me to appreciate the value of adopting a scientific approach which has helped in my own investigations into training methods, diving physiology and nutrition. Free diving is so physically demanding we need to be scientists of our own bodies underwater in order to learn how best to reach our aquatic potential."
But it wasn't only the academic study that benefited William during his time at university.
"I first got into rowing when I was at university and this was the sport where I started to learn how to really push myself in training. I was also involved in some of the theatre productions and was president of Stage 2 Productions and acting in summer Shakespeare. Funnily enough this experience helped me much later when it came to producing free diving events in places like the Bahamas."
2019 has been a big year for William.  He became the first person to complete an 'underwater crossing' of the Cook Strait in a series of 934 breath hold dives to raise awareness of the critically endangered Hector's and Māui dolphins, and also the arrival of his first child; very fittingly being delivered into the world as a water birth.
"My passion is to do more work for conservation as well as expanding my free diving company and brand Vertical Blue. And of course, I'm always trying to get deeper and redefine human aquatic potential."