Ziena Jalil is an award-winning business and public sector leader and inclusion advocate. Campaign Asia Pacific 2020 named her one of 40 outstanding Women to Watch in the Asia Pacific region, describing her as "an asset to her country and an important advocate of underrepresented groups".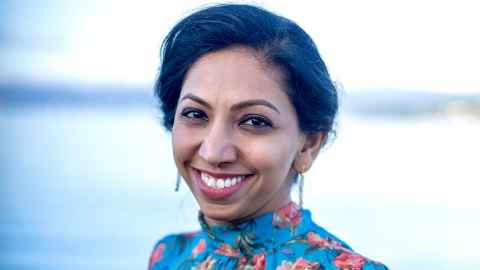 Growing up in Fiji, Ziena Jalil had strong female role models.
"That included my mother and grandmother, and other women leaders who weren't just advancing their own careers, but improving outcomes for marginalised communities."
It is something she has never forgotten.
"I've learnt that you never stop learning, that you learn more from your failures than successes, and that you never achieve alone in life."
Ziena proved she was someone special early on. She was head girl and dux at Fiji's Natabua High School, became a trainer in drug and substance abuse prevention at 16, represented South Pacific youth at a UN forum at The Hague in 1999 and was the only youth speaker at Fiji's first National Youth Summit – charged with developing a national youth policy.
Ziena continued her education in New Zealand, graduating as the top student in her Bachelor of Communication Studies at AUT.
Following roles in communications in Auckland, she moved to Asia, where she was based for ten years in the roles of Regional Director (South & South East Asia) for Education New Zealand, New Zealand Trade Commissioner to Singapore, and Head of North Asia Marketing and Communications for New Zealand Trade and Enterprise.
Her work leveraging the historic NZ-China Free Trade Agreement led to her being recognised as the Public Relations Institute of New Zealand Young Practitioner of the Year.
The youngest New Zealand Trade Commissioner when appointed, Ziena led many of the positioning campaigns now synonymous with Brand New Zealand in Asia, and won several international awards for her work promoting New Zealand trade and education across the
region.
"New Zealand's future – economically, politically, socially and culturally -  is inextricably linked with Asia. Having the opportunity to help open doors and facilitate connections for our businesses and education institutions to grow in Asia was very rewarding."
Returning to Auckland with two young children just over five years ago, she joined a reputation management consultancy as a partner, and enrolled in a Master of Arts at the University of Auckland graduating with First Class Honours in Political Studies and International Relations.
"Something that struck me when I returned from Asia, was our growing diversity. While Auckland is one of the most diverse cities in the world, I'd like to see New Zealand become the most inclusive country."
Today, Ziena runs her own consulting practice in strategy and stakeholder engagement, and serves on the boards of Manukau Institute of Technology, Unitec, DNA Design, Asia New Zealand Foundation and the Cancer Society of New Zealand. She also advises, speaks and writes about leadership, Asia business, and diversity, equity and inclusion.
At that UN Forum in The Hague, she was asked by a journalist what her goal in life was.
"I said I wanted to leave the world a little bit better than what I found.
"I don't think 16-year-old me understood the magnitude of what I said. Fast forward 20+ years, and for me leaving the world a bit better is about bringing equity and opportunity to those with diverse cultures, abilities and experiences.
"I focus on education and economic empowerment, on New Zealand's relationship with Asia and the Pacific, and applying an equity and inclusion lens to everything I do."