Chinese Alumni Club holds 2nd-ever Entrepreneurship Series: Virtual Edition
The entrepreneurial mindset is key to driving growth, but what growth is "good" and how do you strike a balance between ambition and sustainability? Our Chinese alumni experts answer these questions and more.
The University of Auckland Chinese Alumni Club hosted the ninth edition of its popular Entrepreneurship Series on 9 November 2021. The event was the Club's second-ever virtual debut and feature University Chinese alumni panellists Lucy Luo, Justin Lim, and Kenneth Sun.
The panel event, moderated by Club President Rachel Yang and opened by North Asia CAPE Director Charlie Gao, focused on the topic, "Getting into the Entrepreneurial Mindset: Rethinking Growth". The panel discussion explored three important parts: "Good Growth", "Growth Mindset", and "Looking to the future". There was a time at the end for questions, but we couldn't get to them all on air. You can download them below.
All members of the University of Auckland Chinese community – our students, alumni, staff and friends – had the opportunity to connect virtually and hear valuable insights into growing a business or starting up during tough times. University 40 Under 40: Entrepreneur Sam Yin generously livestreamed the event via the HouGarden platform, attended by 600 members of the Chinese community this year.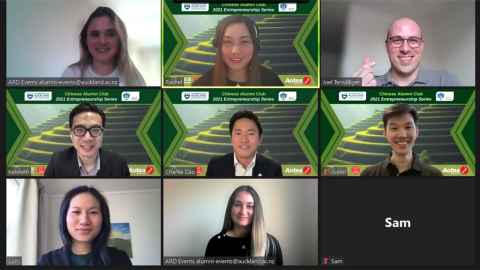 Highlights from Panel Speakers:
Justin Lim is a Co-founder and CEO of Quashed, the most simple, transparent and accessible platform to gather all of your insurance in one place. Having worked for two of New Zealand's largest banks and with many years of experience making banking simpler and more accessible online for Kiwis, Justin used his expertise to launch Quashed in 2020. When speaking of Growth Mindset, Justin emphasised that focus is very important, and he suggests the key to obtaining good growth is having and developing the right focus. Beyond that, he encouraged viewers to never underestimate the significance of continuous learning. When you are surrounded with good people as well as those senior to you, you can gain valuable wisdom from them and leverage their experience.
Starting as a corporate lawyer and having worked in the start-up space all over the world, Lucy Luo has now returned to New Zealand and joined First AML as Chief of Staff. First AML provides a software solution that helps law firms, financial services, accountants and real estate agents to comply with anti-money laundering regulations while shortening their customer's onboarding process. For Lucy, to work with like-minded people and investing wisely in marketing and internal communications will lead to a good growth. More importantly, leaders need constant feedback in order to succeed (both from an internal point of view and also from external customers). Lucy feels that having good support for mental stress is vital and that a work/life balance should be prioritised and developed to avoid long-term burnout.
Kenneth Sun is the partner and founder of Capstone Law. He was a software engineer prior to becoming a lawyer. Kenneth has a MPhil from the University of Cambridge and was also awarded the prestigious Dean's Academic Achievement Award for graduating from the University of Auckland law school in the top 5% of his class. Kenneth has spent 6 years planning to start his own law firm, his motivation is to solve problems. He suggests that for all problems, do not over analyse, instead take action step by step. Looking into the future, Kenneth gave advice on leveraging technology, to streamline systems and processes. His advice for viewers is "Scratch your own itch. Look for problems in your life that really bother you and see if you can come up with a solution."
At the end, Rachel Yang shared her start-up journey for starting Ysquared Chartered Accountants, Ysquared Education, and Trusted AML Services in the early days, from a side business to a full-time career. From working 80 hours a week to now working 40 hours a week and achieving work and life balance. Rachel is also a member of Icehouse in New Zealand and has participated in angel and VC funds, currently investing in over 70 companies.  
To connect with or find out more about the Chinese Alumni Club, join the Club Facebook page. You can also join the WeChat group, by emailing chinese.alumni.uoa@gmail.com with subject line of "Alumni group" for approving.