Ngā Taniwha, the University's Māori alumni network, explores the term 'cultural tax'
The New Zealand corporate sector can be a lonely place for Māori, who often don't see themselves reflected within business generally, let alone in senior positions. The term 'cultural tax' has been coined by some to describe the burden or load carried by Māori in corporate positions.
Ngā Taniwha held an on-line panel discussion with four corporate Māori leaders to discuss the term 'cultural tax'. The event was moderated by Dan Walker (Microsoft), and featured panel members Kirstin Te Wao (Vodafone), Fonteyn Moses-Te Kani (Westpac), and Henare Johnson (Air NZ).  Kaiarataki, Pro Vice-Chancellor Māori, Michael Steedman opened the evening.  
The NZ corporate sector can be a lonely place for Māori. We often do not see ourselves reflected within business generally, let alone in senior positions within NZX50 companies or among the CEO list of Aotearoa.  The term 'cultural tax' has been coined by some to describe the burden or load carried by Māori in corporate positions. This event was an insightful discussion between these four Māori leaders working in corporate roles that have dealt with the cultural tax and made it work for them. In each case, our leaders have managed to affect positive change across their organisations and carry the mana of the whānau and communities they serve.
Fonteyn (Ngāti Porou, Ngāti Maniapoto, Ngāi Tahu) is the Head of Māori and Diversity at Westpac with extensive experience in the financial sector.  Her lived experience of cultural tax draws on her deep knowledge of both iwi and corporate worlds, which enables her to identify gaps in financial services to help improve access to finance for Māori.  Cultural and business values align well, she says, however, executing these values is a much bigger challenge.  Collective thinking and whānau are some of our key cultural concepts that play out in a corporate environment, for example. Fonteyn spoke about how her role affects her wider whānau and therefore the decision to accept her role was made collectively. Precisely this way of looking at a situation can also be applied and add value in a business context.
Kirstin (Ngāti Whātua, Waikato, Te Arawa) has been in the inaugural role of Head of Māori Development at Vodafone for just over a year.  Her experience of cultural tax involves the emotional, mental, spiritual, physical, and whānau toll paid when your whakapapa and cultural knowledge systems are leveraged by others for their benefit, with no intention or thought of reciprocation. She is making significant progress toward positive change, and the recent display of solidarity from Aotearoa's telcos around the use of the word Aotearoa by Vodafone was huge, and a great example of 'kaupapa over competition'.  Kirstin believes we need to shift from paying cultural tax to building cultural credit.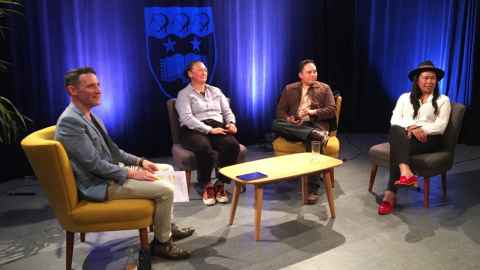 Henare (Ngāti Manawa, Ngāti Porou, Ngāi Tūhoe) is the Cultural Development Manager at Air New Zealand.  He believes that there are times when we, as Māori, need to tell our stories from the perspective of the gardener, rather than the humble kumara.  Cultural tax is an evolving term, but one thing that has stood out for Henare is our people being told 'you're Māori, you should know this'.  One example is the celebration of Matariki that we now celebrate as a nation. Matariki is an event that he (and probably most people over 30) certainly didn't celebrate growing up and he has had to learn what it's all about so that it can be celebrated in an authentic and meaningful way.  He also shared a story about an intern with a strong sense of identity and culture leading a CEO on a marae setting, flipping the traditional corporate structure on its head.  This is a great example of how we need to re-think corporate perceptions of leadership, hierarchy, and the value we place on cultural capability.
Dan (Ngāti Ruanui, Ngā Ruahinerangi, Maniapoto, Ngāti Kahungunu ki Wairoa, Tūhourangi) is the Global Co-chair of Indigenous at Microsoft, and Chair of Ngā Taniwha. A common theme he identified through the panelists kōrero, strengthened by his own experience, was the importance of a strong level of support from allies or sponsors in key leadership positions. This support has been cemented at Microsoft through the creation of the Global Indigenous group co-chaired by Dan, along with initiatives of layering te reo Māori across Microsoft's software.
Looking to the future, all panelists aspired to live in a society where there was no need for specific Māori focused roles.  Instead, an inclusive society where corporate Aotearoa makes decisions with tangata whenua in mind. 
Mai i Ngā Taniwha ki a koutou, ki a Ngāi Pīkoko, i hono mai ai ki te kaupapa nei, tēnā koutou katoa.
Kua tata tātou ki te paunga o te tau 2020, nā reira, ngā mihi matakuikui ki a koutou katoa mō te Kirihimete me te raumati.
Turou hawaiki.
To connect with or find out more about the Māori Alumni network, join the Ngā Taniwha facebook group. 
By alumna and Ngā Taniwha committee member, Jo McNaughton, Diversity – Pouarahi
Kaupapa Māori at Heartland.