Can we prepare young New Zealanders to be global citizens and influencers?
In a marketplace that is increasingly globalised, New Zealand is a recognised trading nation, despite our remote location.
We also have a role in international diplomacy that is much greater than might be expected for a small and distant country. Yet the proportion of our young people learning a second language in high school has dropped to its lowest level in over 80 years, while in Asian and European countries most children leave school proficient in two or three languages. Moreover, few of our graduates are internationally experienced when they enter the workforce.
New Zealand's ability to operate successfully on the global stage hinges on our being able to understand, communicate with and work alongside people from other cultures. A critical factor for the country's future success will be to internationalise our young people. Fluency in other languages and a much better understanding of a wide range of cultures and their traditions is vital for New Zealand to conduct business and diplomacy successfully with the world's major and emerging trading partners.

Enabling students to understand cultures and languages will be vital for a world not yet imagined and will prepare our graduates to solve problems and deal with issues on a global scale.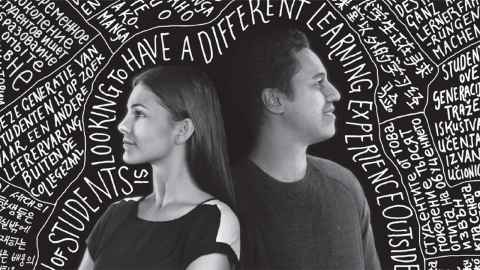 At the University, we are working hard to promote language acquisition. For example, in addition to teaching the widest range of Asian, Pacific and European languages in New Zealand, we host one of the world's most successful Confucius Institutes, which promotes understanding of Chinese language and culture. We also have been working with Canterbury University to ensure that they can maintain their European languages programme following the drop in student numbers after the earthquakes.

Research and experience show that one of the most effective ways to improve language skills and deepen understanding of different cultures is by studying or working in another country. At present, we are able to support about 1,000 of our undergraduate students each year to undertake an international experience as part of their degree. Some of these are through formal exchanges and we have established partnerships with over 100 universities and other international organisations to support this programme.

Others are in areas such as Engineering placements, Medical electives and study abroad tours to create international experiences and opportunities in the arts and creative arts. The principal destinations for these students are China, Southeast Asia, Europe, the UK and the USA. However, 1,000 undergraduate students each year is only a small fraction of the students who would benefit from the opportunity to live and study in another country.

By increasing the numbers of graduates who are fluent in a second language and internationally experienced, we could add real value to New Zealand's export industries and our country's role in global diplomacy.
Support Arts
Since the first Faculty of Arts appeal in 2004, our benefactors have provided financial support for many students who have come to the University.

For more information, contact:
Anne Liddle, Development Manager, Faculty of Arts