We've developed rules around the use of lasers at the University so you, and others near you, are unharmed.
Our Laser Safety Working Group has developed this protocol to ensure that the use of lasers is carried out safely.
A high level of professionalism and good practice is encouraged when working with lasers. It's also essential that the requirements of the New Zealand Standards are complied with.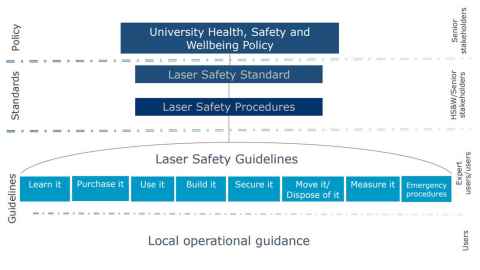 Laser safety standard
This overarching standard can be measured against the standards AS/NZS IEC 60825.1 and AS/NZS IEC 60825.14.
The standard applies to all University staff, contractors, visiting academics and students who direct or participate in work that requires the use of lasers.
Look now: Laser safety standard.
Procedures
Guidelines
Get guidance on the roles, purchase, use, maintenance, transfer, disposal and emergency procedures at the University.
Read now: Guidelines.
Supporting material
Practical tools for laser users.
Contact us
Document Control
Version: 1.0
Last Updated: Dec 2019
Next Review: Dec 2022
Owner: hsw@auckland.ac.nz
Approver: Associate Director, Health Safety & Wellbeing