New Zealand Scholarships build leaders
Applications are currently open for full New Zealand government scholarships to eligible students of developing countries around the globe.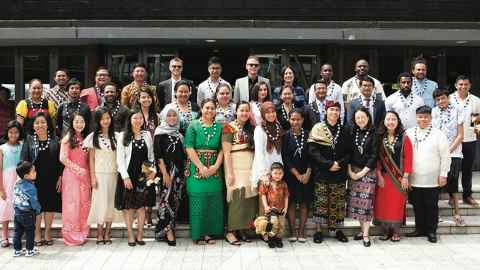 Funded through the New Zealand Aid Programme and administered by the Ministry of Foreign Affairs and Trade, these scholarships help build prosperity, security and sustainable growth in partner countries and a lifetime connection with New Zealand.
Formerly known as several different awards – New Zealand Development Scholarships, New Zealand ASEAN Scholar Awards, and New Zealand Pacific Scholarships – they are now united under one name: New Zealand Scholarships.
Natanael Ek, who came from Belize on a New Zealand Scholarship to enrol in the University's Master of Engineering Management, says:
Attending New Zealand's most prestigious university is a rewarding experience which has taken me through a steep learning curve. Besides academic and professional growth, the experience has helped me become more analytically inquisitive, resilient, and perseverant, and has helped me grow more emotional intelligence.
The Māori concept of manaakitanga – hosting, supporting or caring for others – underpins the New Zealand Scholarships programme. Students can apply to study at undergraduate or postgraduate level in areas such as Climate Change and the Environment, Disaster Risk Management, Health, Law and Justice, Education, and Renewable Energy.
At the end of 2018, the International Office and the Ministry of Foreign Affairs and Trade hosted a completion ceremony for the University's graduating New Zealand Scholars and their proud families at the Fale Pasifika.
Most of the 2018 graduating cohort have now headed home for at least two years to apply the skills and knowledge they have gained in New Zealand to furthering their country's development.