Law team make history in Paris competition
For the first time a team from New Zealand has won the International Chamber of Commerce Mediation Competition.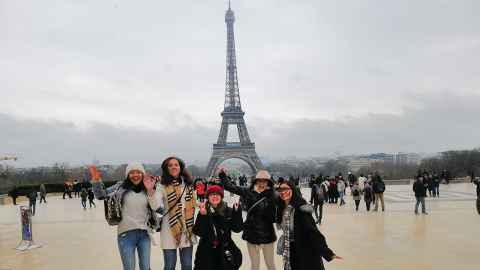 The tricky twists and turns of an octopus in its bid for freedom from an aquarium could be a metaphor for the exacting tasks undertaken by one of Auckland Law School's top moot teams.
The four students from the University of Auckland recently endured a challenging week involving complex problem-solving, to beat teams from 65 other universities and win the International Chamber of Commerce Mediation Competition in Paris. It is the first time a team from New Zealand has won the contest.
The group comprising students Isabel Kelly, Isabelle Kwek, Jodie Llewellyn and Celia Brownlee, assisted by coaches Stephanie Panzic and Jean Yang, made it through seven rounds to compete in the finals of the world's largest international commercial mediation competition.
The round eight problem, termed the 'Octo-finals', saw the Auckland team go head to head with students from York University in Canada, with both side representing aquariums who had fallen out over a missing octopus.
The scenario, which was loosely modelled on the real-life case of Inky, an octopus who escaped from the National Aquarium of New Zealand in Napier, presented legal issues such as reputational damage and the loss of a critical business asset.
The Auckland team's preparation was focused on broadening their understanding of the complexities of each problem, discussing strategy, creating run sheets and preparing opening statements.
Although the contest is open to students from every discipline, each team is required to have at least one law student to take on the role of counsel.
The team credit much of their success to the training programme undertaken at the Auckland Law School, which included assistance from a network of alumni and commercial practicing mediators.
This included training for several months leading up to the competition, to learn sound mediation skills and prepare their strategies for each dispute.
Once the competition began in Paris, teams were evaluated by some of the world's leading dispute resolution specialists who participate as judges.
Following each round, all contestants received a highly valuable feedback from coaches, judges and mediators on their advocacy, teamwork, strategic thinking and interpersonal skills. 

Processing the enormous amount of feedback was challenging, but also an extraordinary learning curve. The entire experience made me understand the true value of teamwork, sharpened my skills, and has also introduced me to new network of friends from across the world.
As first place winners, the students each receive ADR-ODR civil-commercial mediation training courses in London worth £10,000, four-week internships with the Centre for Effective Dispute Resolution, free entries to the Prague Negotiation and Mediation Week, and an array of mediation books, subscriptions and resources.