You don't need to make racial slurs to be racist
Opinion: Shocking, but believable in diverse NZ where race relations have been neglected for years, writes Associate Professor Louise Humpage of the terror attack.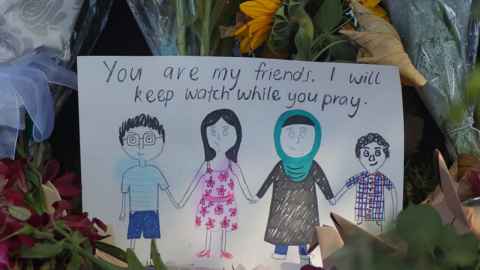 We have all been shocked by Friday's terrorist attack on two mosques. Over and over again I have heard media commentators, politicians and everyday people saying they found it "unbelievable" this could happen in New Zealand.
Yet many scholars and political commentators have argued that such an event was not only believable but increasingly likely in New Zealand, since successive governments have failed to sufficiently address New Zealand's 'superdiversity': 25 percent of the population is now born overseas, making our home the fifth most ethnically diverse country in the world.
There has long been evidence that New Zealanders are not as 'friendly' and 'welcoming' as we like to believe. Not only are there a large number of continuing complaints of ethnic or racial discrimination to the Human Rights Commission every year, but research over three decades highlights the many discriminatory experiences migrants face when searching for work. You don't need to make explicit racial slurs to be racist: you simply do not short-list candidates with foreign-sounding names, you discount qualifications gained overseas and you desire something called 'New Zealand experience'.
My own research found that New Zealanders who have returned home after living several years overseas also experience a form of xenophobia (a fear or aversion towards foreigners and, more broadly, people, values, customs and beliefs differing from those of one's own culture). Many described how employers or recruiters employ the same discriminatory practices when assessing international qualifications and work experience that migrants face. They reported conversations about what they learned overseas (about different cultures, about themselves, about New Zealand national identity) is at best ignored and at worst shut down by friends and family. Ideas about how we might resolve some of New Zealand's enduring social problems are responded to with implied suggestions that you lose your right to complain when you leave the country.
You don't need to make explicit racial slurs to be racist: you simply do not short-list candidates with foreign-sounding names, you discount qualifications gained overseas and you desire something called 'New Zealand experience'. 
If we are afraid of the different ideas and experiences that New Zealanders who return bring with them, what chance do migrants – especially those who are visibly different – have of ever feeling welcome in this country?
There are, however, ways to challenge such views, which can – over time and given the right circumstances – lead to attacks such as Friday's.
We should make it compulsory for every child to learn a second language, because this inevitably leads to understanding a new culture.
We should also ensure every young person, at secondary school or university, has an opportunity to go on cultural exchange, providing an opportunity to know what it feels like to not be able to express yourself fully and to have your everyday norms challenged.
Funding will be needed because not every parent can afford international airfares – although leaving the country is not necessary to gain this experience: mosques, synagogues and cultural organisations could provide short-term stays similar to marae visits to open eyes to different ways of living. Similarly, there are many migrant organisations already providing cultural awareness and cross-cultural communication programmes that, if funded appropriately, could immediately start visiting clubs, sporting organisations, churches and other organisations where adult New Zealanders congregate to provide spaces for communication and dialogue about not only differences but what we share.
Employers also need targeting for such cross-cultural training so that they view migrants (and New Zealanders returning from overseas) as a resource rather than a deficit. New Zealanders returned from overseas and settled migrants could help could mentor new migrants since they know the difficulties of integrating and may bring some appropriate cultural knowledge to the relationship. And new ways of monitoring employment practices are needed to ensure that 'New Zealand experience' or other subtle exclusionary tactics that are unrelated to the actual requirements of the job are stubbed out.
All of these suggestions must be part of an explicit ethnic relations policy that focuses not just on better support for migrants to integrate into New Zealand (although that is needed) but that also targets those already living here. In particular, those of us from a European/Pākehā background need to be encouraged to think about the privileges we gain from living in a country where our culture and language are the 'norm'.
Often we fail to acknowledge that our lives are easier to live because, for example, all of the signs, services and media we engage with happen to be in the only language we speak. But it is hard to forget your own privilege as a white person when there are reports that Friday's gunman met a European/Pākehā man on the street, looked into his eyes, then ignored him and turned to shoot Muslim mosque-goers.
This means it is our job to call out racism and ethnic slurs when we hear them (as a former solider reportedly did regarding Bruce Rifle Club) and for the police, schools, employers and others to take these reports seriously. Some might call this 'PC madness' but it is the only way to ensure that we become the welcoming, friendly society that so many people believe New Zealand to be.
 
Dr Louise Humpage is an Associate Professor of Sociology at the University of Auckland. She specialises in research into Immigration, and refugee policy and settlement. This article reflects the opinion of the author and not necessarily the views of the University of Auckland.
Used with permission from Newsroom You don't need to make racial slurs to be racist published on 21 March 2019.