360 International team wins global diversity award
The 360 International team, providing access to overseas learning experiences for University of Auckland students, recently won a global Diversity Abroad award for their outreach, marketing and recruitment efforts.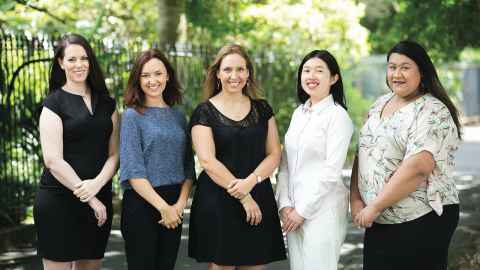 This global award acknowledges the work the 360 International team has been leading to increase diversity in participation in learning abroad, specifically among our Māori and Pacific students. Easter Faasoo-Tuilagi, a 360 International Adviser, travelled to Boston in March to accept the award on behalf of the team.
Attending the Diversity Abroad awards was an amazing opportunity to engage, connect and network with professionals who share the same passion in diversifying and promoting studying abroad and overseas opportunities. I am reminded of my 'why' and why I am doing the work I do. My service to our indigenous communities, my service to our people.
The work of 360 International contributes to the University's Generation Study Abroad commitments and our 2020 strategic goal for one in four graduating undergraduate students to have had a learning abroad experience. Ainslie Moore, Deputy Director International Operations, says, "We are so proud to have been recognised in this way. While we are just beginning, it's wonderful to have been acknowledged by our international peers for our efforts thus far. It's definitely inspiring us to keep innovating and improving our efforts to support our Māori and Pacific students to benefit from learning abroad."
Diversity Abroad is an international organisation promoting equity and opportunity through diversity and inclusion in education. Andrew Gordon, CE of Diversity Abroad, has said, "We can't have it both ways. We can't say Education Abroad is high impact but then be okay with it being exclusive to privileged students. If we truly believe in the power of global education then we must do everything in our power to break down the barriers that would deny all of our students equitable access to its benefits."
Easter's acceptance speech
Ko Samoa toku whenua
Ko Salafai te motu
Ko Safotulafai te iwi
Ko Fuifatu te marae
Ko Easter ahau
Samoa is my homeland
Salafai is my island
Safotulafai is my tribe
Fuifatu is my meeting place
I am Easter
I am honoured and humbled to receive this award on behalf of the 360 International team. We are very grateful to join past recipients who have made incredible contribution to diversifying study abroad.
We have been working on this full inclusion project for Māori students for the last few years, and it has taken a lot of effort not only from our team but also the wider university community. The achievement we celebrate today is but a step, an opening of opportunities that awaits. We will utilise this project to encourage and support more Māori students to study abroad.
We would like to thank Diversity Abroad for their support in helping us through this journey. We are grateful for those who came before us. Those who inspired us. We acknowledge our ancestors, the great giants, who paved the way and allowed us to stand on their shoulders so we can stand here today on our own. We are all in the canoe together. Thank you.