Contact the 360 International team
The 360 International team is keen to help you explore the many opportunities available to make overseas study, research, or internship part of your time at the University of Auckland.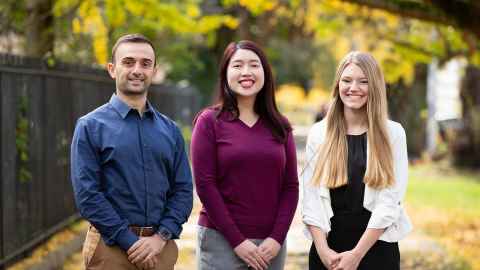 Come along to our Mobility Fair event
Want to discover how add a global experience to your degree? Join us at our annual 360 International Mobility Fair happening on Wednesday 3 August in Owen G Glenn Building (OGGB). 
The 360 International Mobility Fair is our annual fair where our students can discover the wide range of global opportunities available as University of Auckland students, including the semester exchanges, virtual programmes, global internships, Prime Minister's Scholarship programmes and other short-term opportunities.
Learn more about our 360 International Mobility Fair.
Email
Book an appointment for office hours
Currently, we are available for online appointments from Monday to Friday during the inter-semester break. Whilst we transition back to campus, and as we don't have a student-facing appointment space ready, we will continue to have online appointments until further notice.
You can book an online office hour appointment and select an appointment based on your particular query:
Exchange questions: before you apply to 360 International for exchange (speaking with the Student Hub, research courses, potential host universities, etc)
Exchange post application/acceptance: after you have applied to 360 International for exchange; have received a nomination offer or have been accepted for exchange
Virtual Programmes: learning about our virtual opportunities
Please check for available appointment times or email us if you have any questions about an appointment.
You can also call us during Monday to Friday between 9am to 4pm at +64 9 923 1692.
Attend an information session
We hold information sessions about opportunities on offer. This is the best place to start if you want to know more about planning for a semester exchange, virtual or short-term programme. To find out about our next information session, be sure to check out more on 360 International events. 
Join our mailing list
Adding an international experience to your degree will contribute to your personal, professional and academic development. If you're keen to stay connected with exciting programmes and important dates, you can receive 360 International updates by becoming a part of our mailing list.
Connect with us on social media
You can find us on Facebook, Instagram and LinkedIn. We also have a blog where current students and alumni have written about their experiences from our programmes, including exchange, virtual and short-term programmes. To keep updated with our opportunities, we encourage you to connect with us on social media. 

Find us
Physical address
360 International
Room 015
Alfred Nathan House
24 Princes Street
City Campus
Phone: +64 9 923 1692
Sending mail to 360 International
Please note, our courier address is different from our postal address.
Postal address
360 International
International Office
The University of Auckland
Private Bag 92019
Auckland Mail Centre
Auckland 1142, New Zealand
Courier address
360 International
International Office
The University of Auckland
Alfred Nathan House
24 Princes Street
Auckland 1010, New Zealand