Contact the 360 International team
The 360 International team is keen to help you explore the many opportunities available to make overseas study, research, or internship part of your time at the University of Auckland.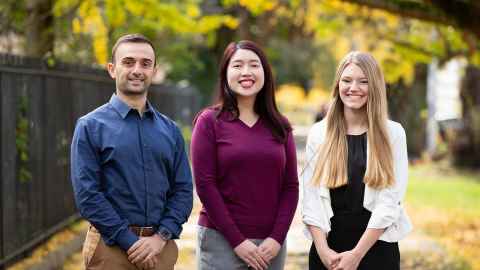 About us
360 International is the outbound mobility team at the University of Auckland, as part of the International Office.
360 International provides University of Auckland students with access to a diverse range of overseas and virtual experiences including semester-long and year-long exchange, short-term programmes, research placements, internships, and more. We facilitate the semester exchange programme for students, so students must first apply to 360 International for consideration in the semester exchange programme.  
The 360 International team consists of the:
360 International Manager, who leads the team in promoting and supporting in learning abroad activities.
360 International Advisers, who lead the outbound exchange programme and support students participating in learning abroad activities. 
Outbound Scholarships Coordinator, who looks after the group programmes for Prime Minister's Scholarships for Asia and Latin America.
360 International Peer Advisers, who are current students that have participated in learning abroad programmes and assist in supporting students in participating in learning abroad activities.
Email
Phone
You can call us during Monday to Friday between 9am to 4pm at +64 9 923 1692.

Chat to us during office hours
Semester Two 2023 in-person drop-in office hours
Office hours still run during mid-semester break. We have drop-in office hours where you can chat with an adviser in the team, no appointment necessary.
When: Tuesday to Thursday, 10am to 12pm
Location: Level 0 of Alfred Nathan House, 24 Princes Street, City Campus. Please enter Alfred Nathan House from Princes Street and go down the stairs past the reception. (Note, Alfred Nathan House is across from Albert Park.)
Semester Two 2023 online appointments
We have online appointments available on Fridays, 10am to 12pm. You can book an online appointment to speak with an adviser and select your query type:
Exchange programme
Prime Minister's Scholarship programmes
Other global programmes
You will receive an email confirmation with a Microsoft Teams appointment link, and please check your spam folder. If you haven't received a booking confirmation, please email the 360 International team.
Browse international opportunities
Attend an information session
We hold information sessions about opportunities on offer. This is the best place to start if you want to know more about planning for a semester exchange, virtual or short-term programme. To find out about our next information session, be sure to check out more on 360 International events. 
Join our mailing list
Adding an international experience to your degree will contribute to your personal, professional and academic development. If you're keen to stay connected with exciting programmes and important dates, you can receive 360 International updates by becoming a part of our mailing list.
Connect with us on social media
You can find us on Facebook, Instagram and LinkedIn. We also have a blog where current students and alumni have written about their experiences from our programmes, including exchange, virtual and short-term programmes. To keep updated with our opportunities, we encourage you to connect with us on social media. 

Find us
Physical address
360 International
Alfred Nathan House
24 Princes Street
City Campus
Sending mail to 360 International
Please note, our courier address is different from our postal address. For partner institutions - please use our postal address if sending packages through regular mail (not a courier delivery service).
Postal address
360 International
International Office
The University of Auckland
Private Bag 92019
Auckland Mail Centre
Auckland 1142, New Zealand
Courier address
360 International
International Office
The University of Auckland
Alfred Nathan House
24 Princes Street
Auckland 1010, New Zealand