Jake Bransgrove transcribes diaries of Joseph Banks
Student and University of Auckland history tutor Jake Bransgrove added to his historical knowledge with a summer project transcribing journals and letters.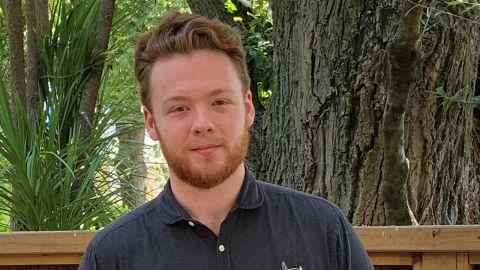 This year is the 250th anniversary of James Cook's 1769 voyage to New Zealand and history masters student Jake Bransgrove spent part of summer adding to the trove of historical materials related to Cook and Joseph Banks' travels.
Jake received a summer scholarship from the Auckland Library Heritage Trust, under the supervision of Professor Linda Bryder, to transcribe botanist Joseph Banks' journals and correspondence, which are held by the library.
The project is a collaboration between the Trust, the Central City Library and the University. Jake was tasked with transcribing around 200 pages – 30 manuscripts. His transcripts of these handwritten documents will be published on the library's new heritage collections website, Kura Heritage Collections Online. The documents will be accessible to mark the 250th anniversary of the voyage of HMS Endeavour to Aotearoa and the first encounters between local Māori and the Europeans.
Before embarking on the project, Jake says he didn't know much about Cooks and Banks. "I'd never really exposed myself to New Zealand history too much - I didn't do it at school. Back then I never found it as interesting and I'm not quite sure why. But this subject is good because it's the bridge between my specialty and NZ history. It's such an important part of New Zealand history."
Jake says the research opened his eyes to the resources available.
"It was a very big surprise to know the library had Cook and Banks pages. The collection is incredible. That's one of the big things to take away from this, is having an awareness of the world-class materials not just in the Auckland Central Library but also in special collections in the University library.
"The library had taken pictures and digitised every page and the handwriting was for the most part legible. There were a couple of entries where Banks had really bad gout, towards the end of his life, so the writing there was a bit harder to read.
"I went through all the papers, writing down what I could in the first rough transcription. I highlighted problematic words and went back a second time with a fine transcription. If I had any problems from there, I would talk to my supervisor and Georgia Prince at Auckland City Library's Special Collections and Jane Wild who's in charge of the library's Heritage Collections."
Professor Bryder is full of praise for the end result: "Jake did more than just transcribe, he read secondary sources widely to enable him to place the transcripts in their context."
The digitised manuscripts sit alongside Jake's transcription online. People can also read five blogs Jake wrote based on the diaries, at Heritage et AL.