Professors honoured as engineering leaders
Four Faculty of Engineering Professors have received Engineering New Zealand honours.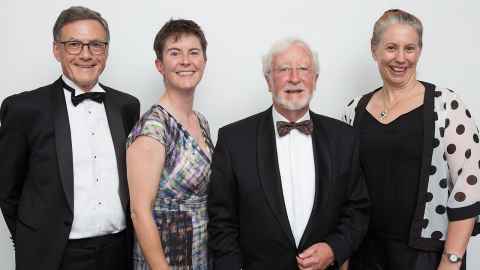 Just a year after becoming an Engineering NZ Fellow, Engineering Science Professor Rosalind Archer has been named as the organisation's Vice-President. As part of the board, she will work closely with Engineering New Zealand on their strategic goals to build credibility and trust for the profession, and generate public recognition for the contributions that engineers make to society.
Professor Archer already holds a range of leadership and governance roles, both on and off-campus. Here at the University, she remains Head of Department of Engineering Science and Director of the Geothermal Institute. Last week, she also became a chartered member of the Institute of Directors.
Becoming Vice President of Engineering New Zealand is a great opportunity to give something back to the profession. I am excited by the strategic refresh the organisation has had, and am looking forward to supporting the continued implementation of that strategy.
Dean of Engineering, Professor Nic Smith adds, "Rosalind's leadership in the Vice-President role is a really positive step towards strengthening the critical partnership between Universities and the profession, I have no doubt she will do a great job in the role."
Three additional faculty members – Professor Mick Pender, and Deputy Deans Professor Bryony James and Professor Gerard Rowe – were honoured at the Engineering New Zealand Fellows' Dinner on Friday night.
Gerard, Bryony and Mick have provided outstanding leadership inside and outside the University. They have each played pivotal roles in shaping the future generations of engineers for Aotearoa New Zealand and contributed world-leading research. I am absolutely delighted to see their acknowledgements by the profession.

Professor Mick Pender from the Department of Civil and Environmental Engineering is our faculty's latest Distinguished Fellow, named in recognition of his contributions towards advancing the engineering profession in his over-five decade career. He has educated several members of our current staff, is a life member of the New Zealand Geotechnical Society and New Zealand Society for Earthquake Engineering, has won numerous accolades for his professional commitments and technical expertise in Geotechnical Engineering, including seven from Engineering NZ, and was a recipient of a University of Auckland Sustained Excellence in Teaching Award in 2005.
The Department of Chemical and Materials Engineering's Professor Bryony James has strayed from the traditional path of metals, plastics and ceramics, choosing instead to focus on the structure and properties of food. In addition to her day job as our faculty's Deputy Dean (Research) – where she plays a vital role in strengthening our relationship with national bodies such as the Federation of Māori Authorities (FOMA) – she is also a recognised top teacher by both our University, and with an Ako Aotearoa National Tertiary Teaching Excellence Award.
Her achievement additionally marks another step forwards. Alongside Professor Rosalind Archer, she is now one of two women in our current academic roster who have been awarded the title of Engineering NZ Fellow. To have visible women leaders aligns with our faculty's commitment towards a higher intake of women undergraduates, as well as our position as a founding partner of Engineering NZ's Diversity Agenda. 
Professor Gerard Rowe's immeasurable contributions to our faculty are visible in the students and alumni who fondly remember his teaching – from first-year to postgraduate level – in the Department of Electrical, Computer, and Software Engineering for the past 35 years.
For over a decade, he played a major part of the Faculty of Engineering's outreach programme, speaking to audiences of over 300 prospective students for several nights each year at our popular Engineering Futures Evenings. He is a winner of over 21 teaching awards, including an Australian Association for Engineering Education award for excellence in Teaching and Learning. As our Deputy Dean (Academic), Professor Rowe draws from his pedagogical research interest in curriculum and course design, allowing him to influence the effectiveness of our undergraduate programme that feeds into the future of the profession.
Engineering New Zealand defines its Fellows as "leaders in the industry who inspire others and have made a significant contribution to engineering." With over 22,000 members, Engineering NZ is the country's professional engineering body, responsible not just for the field's regulations, accreditations, advocacy, and policies, but also for ensuring that our industry meets internationally-benchmarked standards.