Eye on the top prize for creative writing alumna
A Kiwi story about two old friends, a visit to a rest home and a kapa haka performance has been named a regional winner of the prestigious Commonwealth Short Story Prize.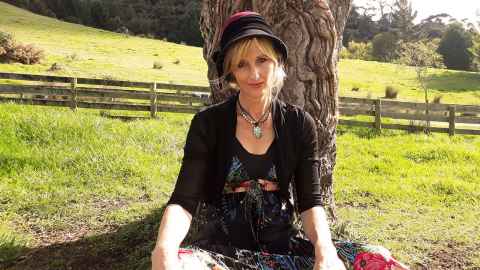 University of Auckland creative writing alumna Harley Hern's story Screaming joins four other regional winners in a competition which attracted 5,081 entries from 50 Commonwealth countries. Harley says she was driving one day and two scenes "arrived in her mind".
"I could feel the heightened emotions of two women in a car — and simultaneously, what had gone before, in a rest home. My daughter was very involved in kapa haka at the time and this became superimposed on my ideas of the story, then eventually, integral to it."
She "held the story inside her" for a year, then last year began to write it in bits, whenever she had a spare pocket of time. "Ironically, most of the story was written in my car while I was waiting to pick up my girls, or in between meetings."
The rough shape happened over some weeks. "I realised there would be two parts, and two settings. This is a big risk to take with a short story. The rewrites took several months and even then I was never completely satisfied I'd managed to craft it successfully."
She says entering it for the prize was just a matter of timing. "Also it was a personal dare. I've always loved the short story form, but it's been so long since I crafted one, I wasn't sure I could produce anything of a high enough standard for a competition.
"Instead, I dared myself to finish the story and send it in to whichever deadline next became available. I never thought it would even make the longlist for the Commonwealth Prize." Even after sending it in, she wasn't sure she had completely nailed it.
I was astounded. To even be shortlisted is an enormous honour, one I thought I'd never receive. 
"I thought parts of it were strong but I wasn't sure if I'd managed the difficulties of pace and change of setting. Also, not all the language is 'family-friendly' and I expected that would eliminate it early on. I was just pleased I had managed to send any kind of story at all."
Receiving the email telling her she'd made the shortlist was an unforgettable moment. "I was astounded. To be shortlisted, and now to be a regional winner, is an enormous honour, one I thought I'd never receive. And I'm also astounded because no one has read my story other than the Commonwealth Writers' panel.
"When I received the email from the organisers in the UK, I'd love to say I replied graciously. Actually I wrote to say I was stuck to the ceiling, possibly permanently, and did they mind if I emailed from there? That was just before I started screaming."
Harley has read the other story excerpts on the shortlist and knows she is in good company. "Every time I begin to think about the winner being announced, I get a jiddery, queasy feeling. Frankly, I feel privileged to have made it this far. There appear to be such very, very good stories in the running."
Having completed a Master of Creative Writing in 2015, Harley Hern is now the administrator of the Academy of New Zealand Literature, originally established by Associate Professor Paula Morris with a grant from the Vice-Chancellor's Development Fund.
Now in its eighth year, the Commonwealth Short Story Prize is awarded annually for the best piece of unpublished short fiction from the Commonwealth. The prize is judged by an international panel of writers made up of a chair and five judges, one from each of the Commonwealth regions: Africa, Asia, Canada and Europe, the Caribbean, and the Pacific.
Announced in Québec City on 9 July, the overall winner will receive £5,000 and will be selected from one of the regional winners, who each receive £2,500. Each regional winner also has their story published online in Granta, the magazine of new writing.