Colin McCahon the artist, as curator
Finn McCahon-Jones' research into Colin McCahon reveals his artist grandfather's talent as a curator.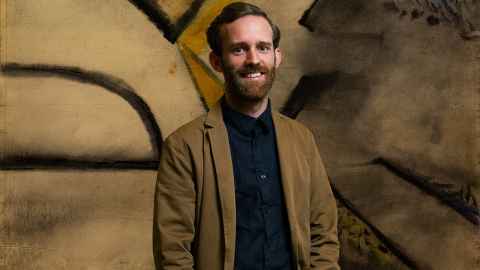 He was interested in how art works when you walk up to it, past it, along it.
Returning to study in 2018 after years in the workforce was daunting for artist and curator Finn McCahon- Jones. He hadn't studied at the University of Auckland before, but breezed through the heavy demands of the honours year with straight As. In particular, it was his dissertation – a year-long project resulting in a 10,000 word essay – that he found most fulfilling. Finn chose to research and write about his grandfather, renowned modernist painter Colin McCahon, because it was "a way to look at my whakapapa and the family narrative. I knew Colin in one sense, but I felt I got to know him in a different way by doing this research.
"I heard his voice in the catalogue essays. What was really valuable was how I got a feeling for what it was like for him working at the Auckland Art Gallery in the 1950s and early 1960s when the gallery was just starting to professionalise."
Finn's research is groundbreaking in many ways, most particularly in examining how Colin's training as an artist expressed itself in the way in which he installed exhibitions.
"In most biographical articles or books on Colin, there is usually a line or two devoted to the fact that he worked as a curator at the Auckland Art Gallery. I was interested to find out what evidence there was of Colin's time at the gallery in the institutional records.
"I also wanted to know what impact his work as a visual artist had on his curatorial work. A few writers have dealt with the influence on his own painting of his gallery work, but I was interested in how it worked the other way around."
It was archives held in the E. H. McCormick research library, administered by library managers and Auckland alumnae Caroline McBride and Catherine Hammond, that were to provide the richest resource for unpicking the nature of McCahon's work at the gallery. Finn read through documents, letters and newspaper clipping books from 1953 to 1964, finding mention of exhibitions Colin had curated and of artists he promoted.
"Both Colin and [wife] Anne really rated Frances Hodgkins (1869-1947) and he had a lot in common with her," says Finn. "Colin wrote to [Landfall editor] Charles Brasch about how he hung the Hodgkins exhibition. He connected with her paintings."
The centenary of Colin McCahon's birth is this year and an exhibition entitled Colin McCahon's Auckland: In the Archive will run at the Auckland Art Gallery, opening on 6 July. Finn's research will run alongside it, helping interpret the ephemera collections and throwing light on Colin's early years in Auckland.
"In one sense, Colin took liberties with his power at the gallery," says Finn. "He curated the exhibitions, he hung them and his own work was in them, but he did do really good shows, especially the Frances Hodgkins. He used to say she had to go away to become an artist and that New Zealand couldn't really claim her."
The only time Colin himself had left Australasia was to the US under the auspices of a Carnegie Grant to study gallery and museum display methods, for four months in 1958. Yet Finn's research shows his grandfather was at the forefront of professional museum methodologies of that period, and also that Colin found working at the gallery enormously stimulating.
"Colin was all about line, composition, frame, structure. His was a phenomenological approach. Rather than putting up pictures to illustrate a narrative, he was interested in how the body encounters art, and how art works when you walk up to it, past it, along it."
It was a creative way to install exhibitions and one Finn describes as typical of an artist.
"He was using his artistic abilities at work. Understanding that, for me, underscored the importance of working with artists in galleries. There are methodologies that you can only develop from artistic practice – spatial considerations. How you look at light and consider materiality. These are the qualities that Colin brought to bear.
"I am just so glad my research has turned into something. We are making an exhibition that will go out in the world, where other people can appreciate what Colin did."
By Linda Tyler