Lau Saili was the first family member on his Samoan side to attend university. Now the law and political science graduate is the Acting Director of Strategy for Space, Aerospace and Defence Industry Development for the Queensland Government's Economic Development Agency.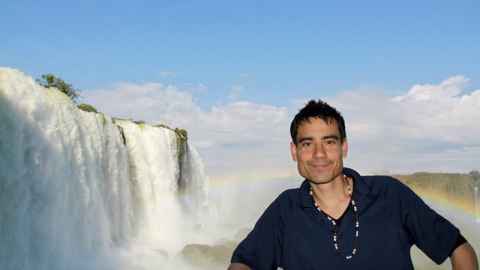 There were few Islanders living in Northland when Lau was growing up in the 1980s. Of Samoan-Niuean and Anglo-Celtic-Māori descent, Lau was raised with his younger sister in the small coastal village of Ngunguru on the Tutukaka Coast. The family were deeply religious, practicing the Baha'i Faith and fa'a Samoa.
I was the odd one out in a community of mostly Pakeha and Māori, and brought up by a single Dad. Also we were non-Christian among Samoans and Pasifika.
"Being an example citizen and striving for educational excellence and justice are key tenets of the Baha'i religion, along with humility and service which of course tie in with the fundamentals of fa'a Samoa. As the elder sibling and a male, these values and standards were amplified," he says.
From a very young age Lau says he felt unique, special - and an outsider.
"I had a strong sense of justice (fairness, social justice, economic justice – we were quite poor in New Zealand terms). So studying law was natural. Later on this competed with architecture as an option, but a Public Trust Pasifika Scholarship played my hand," he says.
Lau admits that moving to the big smoke to attend law school was a rude awakening. "It was really tough. There was a mentality and logic that did not flow with my natural, big picture thinking. My idealistic ideas about justice were quickly doused."
Other law students were predominantly Aucklanders from well-known private and public schools, with counterparts from the rest of New Zealand's main centres, and often second or third generation lawyers.
"There was no one from Whangarei Boys' High School at Auckland Law School, and very few from Northland. So my general feeling of being an outsider was reinforced, though it was great to have the support of Pacific Island Law Students Association (PILSA) – especially the buddy/mentoring from practicing lawyer Paul Pa'u, in first year.
In his later years he became more active in PILSA and ran swat sessions for Pasifika, Maori and any other students taking resource management (including planning and local government law). He also met his future wife who was studying architecture.
Lau enjoyed all the public/administrative law and jurisprudence subjects. Papers in these areas fitted with his thinking style and the political studies major he was completing.
He realised however, that there wasn't much real-world work out there in New Zealand for true public or human rights lawyers, so he changed his electives to focus on resource management and environmental law.
Lau was fortunate to have guaranteed, well-paid holiday job placements with the Public Trust as part of his scholarship during study. His first job after graduating was at a boutique management consulting firm recently established by a national figure in the field of town planning, Ken Tremaine.
"Ken was quite a maverick and I was given a lot of client responsibility straight away, travelling all over NZ to urban growth and tourist 'hot spots' – working on infrastructure funding projects."
By coincidence of a mutual client, I became heavily involved as a resource management consultant and eventually junior to a senior Wellington-based barrister Phillip Green in what evolved into several years of major litigation – a local government client vs. NZ's largest energy company on power station consents and energy resource policy/regulation.
Lau says this was a crazy period of colossal days with an international team of expert witnesses – and marathon nights to juggle the litigation asks alongside management consulting work.
"I was really fortunate to have Ken give me the space to grow the litigation work as a core part of our business," he says. "I learnt more about legal research and writing, civil procedure, evidence and advocacy in a month with Phillip Green, barrister, than in all my years at law school. It was a real old school style apprenticeship."
After having Phillip and Ken as great mentors, Lau career was off to a great start. His challenge was sustaining this.
"At the end of the exhausting litigation my wife and I resigned from our jobs and went backpacking through Southeast and South Asia for a year, then living in London for around four years," says Lau,
The distance and perspective helped confirm to Lau that a law career was not for him. Instead he began working for an international renewable energy industry association (hydroelectricity), and travelled the world to track and influence the UN climate change negotiations as well as undertake sustainability audits of major hydro projects – in Iceland, Canada, Brazil and Malaysian Borneo.
Fast forward seven years and Lau now works for the Queensland Government's economic development agency as the acting director of strategy for space, aerospace and defence industries development – following stints with advanced manufacturing, industrial biotechnology and energy industries development
 
Essentially, I'm in charge of developing and executing strategies for growing and diversifying Queensland's economy beyond traditional pillar industries (mining, agriculture, tourism, education.
"I work closely with industry and the research sector, as well as across state government and federal government agencies to make these happen.
The great thing about Australia's state/territory governments is they are not 'hands off' like federal/central ones in other Anglo-American economies – they realise they are competing, and Australia is competing, in a regional and global marketplace of countries and if they don't leverage their strengths no one else is going to this for them – not the market, not the private sector (alone)."
Lau believes law is underrated compared to economics, finance, accountancy or engineering as a business discipline.
"Lawyers in Anglo-American economies are typically restricted to in-house counsel or regulatory roles – name me one famous CEO from a legal background," he says.
"But I've always found law's way of framing (e.g. public law, jurisprudence) and problem solving (e.g. legal method, legal logic and argument) as powerful tools alongside those which the other professions bring. Public speaking and presentation is a very important and overlooked skill, particular as one climbs the government / corporate ladder."
Life outside work is pretty full with a six year old daughter, Ella, and three year old son, Xavier. Lau's wife, Farzana, also works full time, having recently switched from being an architect to being a property development manager in an Australian firm.
For Lau, the benefits of being in a large city include the music, modern art and films. He says Brisbane's famous Gallery of Modern Art (GOMA) and South Bank are a great balm for the soul for him and family. "I get along to gigs of international artists I follow whenever I can – the most recent have been Bob Dylan and Kurt Vile. I was pretty gutted to miss out on Kendrick Lamar (only played Sydney and Melbourne) and Khruangbin (tickets sold out too quick)."
In his sights are teaching Ella electric guitar, and both her and Xavier snorkelling and scuba diving, as they get older.
"And, of course, it is world cup year so I will be putting on my black or blue shirts and tuning in to Rugby Union like any other good male Kiwi and Samoan!"
Disclaimer: unless otherwise stated, the opinions Lau Saili puts forward in this piece are his own personal professional opinions and do not represent his employer organisation's or clients.