Education researcher receives Chinese Government PhD Student Award
Di (Allen) Wu, a PhD student from the Faculty of Education and Social Work, recently received the Chinese Government Outstanding Self-financing PhD Student Award 2018.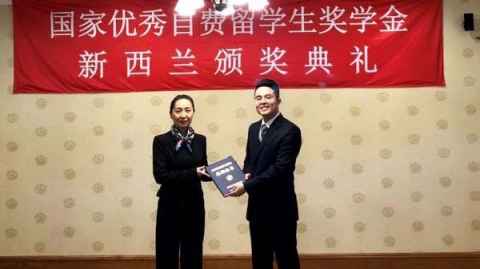 The  award, from the China Scholarship Council, recognised Wu's significant achievement in his doctoral study in New Zealand. Wu is one of only three PhD students studying in New Zealand universities who received this prestigious award, and the only recipient conducting research into the humanities or social sciences.
His PhD thesis investigates "Complexities of Translator Competence: Weaving Translation Teacher Cognitions, Pedagogical Practices, and Student Insights", which adds a unique angle to the field of language-teacher education. Wu is supervised by Professor Lawrence Zhang, as principal supervisor, and Dr Aaron Wilson, as co-supervisor, both from School of Curriculum and Pedagogy.
It is encouraging for Chinese PhD students in the Faculty of Education and Social Work to see their research in the humanities and social sciences being valued.

"The University of Auckland provided me with the first-class research facilities, resources and support that made my PhD study a smooth process. Professor Zhang's rich experiences in working with PhD students of diverse backgrounds, in particular, have added value to my understanding of my research and led to several publications in well-known international refereed journals in my field of study, " Wu says.
He adds, "As a student at the Faculty of Education and Social Work, which has an outstanding international reputation, I also had the honour of delivering a plenary presentation at an international conference on translation studies in Qatar. It was a rare opportunity that was fully funded by the conference organisers."
The Outstanding Self-financing PhD Student Awards 2018 were presented by the Chinese Ambassador, Madame Wu Xi, at an awarding ceremony organised by the Second Secretary of the Education Section at the Embassy of the People's Republic of China in Wellington.
Professor Lawrence Zhang says, "This is indeed encouraging news for many Chinese PhD students in the Faculty of Education and Social Work who have seen that their research in humanities and social sciences are equally valued when scholarships are awarded."