Final stretch for new purpose-built Engineering building
With construction of our new purpose-built Engineering building nearly complete, everything is on track to welcome staff and students in 2020.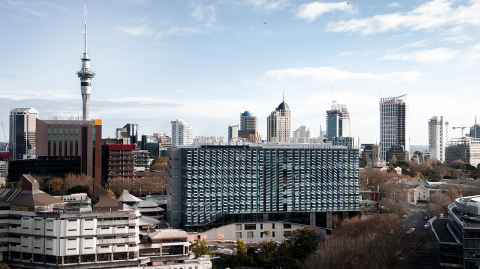 With the structure complete and the façade being closing the exterior in, there's been significant progress over the past few months on our new building. While teams of builders continue with the fitout works to install all the equipment necessary for research and teaching, it's the perfect opportunity to consider some of the stats that have gone into creating this state-of-the-art teaching space.
Over 90,000 people days (nearly 800,000 hours) have gone into the build so far.
Almost 3,000 people have been on to the B405 site. 
The total length of timber framing use could cover the length of the Eden Park pitch more than 1,300 times.
The timelapse footage below shows the progression from the start of construction in August 2017 to the façade coming together over the past few months. While it may look nearly complete from the outside, there's still significant fitout work underway inside.
The new building was designed and is being constructed around the theme of Visible Engineering. So far, this has manifested in the research projects taking place on site, many of which will be on display in some form after the building has opened. This will illustrate the engineering concepts inherent in the building, enabling students and visitors to understand its construction and the forces that act upon it.
For example, strain gauges installed in the building will be able to display information about the way certain forces are acting on the building, which are ever-present but invisible. The intention is to present the structural load changes in Building 405 in a simplified manner, acting as a gateway into these Engineering concepts.
Other projects expanding on the theme of Visible Engineering include a Virtual Reality/Augmented Reality reconstruction of the building. This allows people to view the interior of Building 405 at various stages of construction, such as before the cladding on the walls was installed.
Building 405 will be ready for students and staff for the start of the 2020 academic year, promising new teaching and research spaces, as well as larger study and breakout areas to encourage student collaboration. Keep up to date with regular updates here or on social media.