Faculty welcomes first international cohort in new programme
The official welcome of 17 international students from China to start a Bachelor of Education (TESOL) marks the start of a new education programme crossing borders.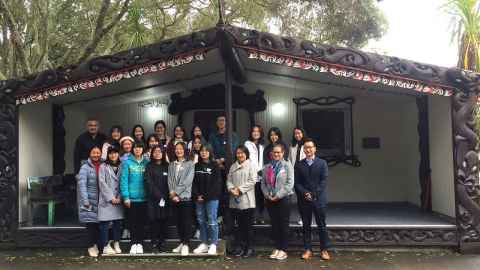 The students got their first taste of Māori tikanga yesterday with a mihi from Katene Paenga who said, "Nau mai, haere mai ki Te Kura Akoranga me Te Tauwhiro Tangata". From partner universities in China, the students were welcomed onto Te Aka Matua ki Te Pou Hawaiki Marae at the University's Epsom Campus. The pōwhiri marked the start of a brand new Bachelor of Education (Teaching English to Speakers of Other Languages) (TESOL) programme to provide students with a deep understanding of learning and teaching English to speakers of other languages.
Over the next two years, the students will gain the latest interdisciplinary knowledge and skills to excel at teaching and supporting all English language learners – children and adults alike. Among the cohort are Xuye Fu, Wenjun Mai and Siyu Zhang who received the International Student Scholarship in recognition of their strong academic record in their home country.
"When I received the message (about my scholarship) I was really excited, it was unbelievable. I think the scholarship not only helps to ease my parents' financial stress but also serves as an improvement to my past two years of studies," says Wenjun Mai, who believes the programme is a way forward for her.
"It helped in reducing financial pressure and is also a recognition of my academic achievements; it serves as great encouragement for me," says Siyu Zhang.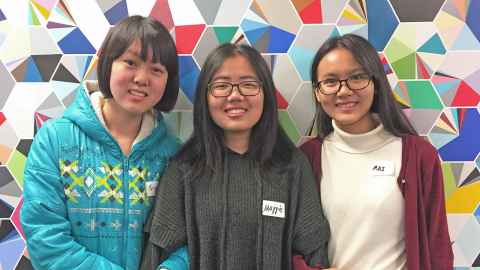 Xuye Fu wants to be a teacher and is very motivated to take up this programme. "I am a major in English at my home university and this opportunity will expose me to an English-speaking environment," she says.
The programme is unique to New Zealand in that it exposes international students to te ao Māori as well as to global interdisciplinary approaches in TESOL and language learning.
Delivered in Auckland, one of the most diverse cities in the world, the programme provides an ideal context for students. Supervised work placement as part of the programme will also allow students to observe TESOL teaching in a range of settings.
Wenjun Mai adds, "Learning is not just acquiring knowledge, it is also applying this knowledge to your teaching. I'm not a very confident person and I realise I can learn to be more confident and independent in a foreign country with no parents around me."
The Bachelor of Education (TESOL) programme opens for New Zealand students in 2020.