First New Zealand woman inducted into chemistry's Hall of Fame
Distinguished Professor Dame Margaret Brimble will become the first New Zealand woman to be inducted into the Division of Medicinal Chemistry of the American Chemical Society's Hall of Fame.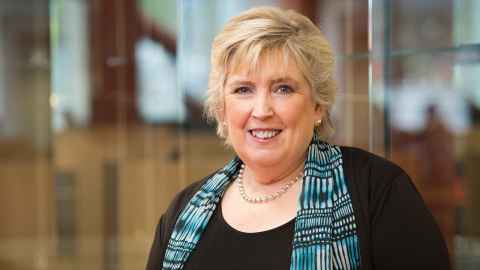 The Hall of Fame publicly recognises research pioneers who have made meaningful contributions in the field of medicinal chemistry and, in particular, drug discovery, excellence in teaching and outstanding service.
Professor Brimble joins Professor Bill Denny of the University of Auckland and the Auckland Cancer Society Research Centre as the only New Zealanders to be recognised in this way. Her induction will take place at a meeting of the Division of Medicinal Chemistry (MEDI) in San Diego next month.
"I am delighted to be recognised by my peers in this way and especially pleased to be honoured for my research in medicinal chemistry which has been my life's work," she says.
Professor Brimble's career has been marked by outstanding achievements in science. The MEDI honour follows national and international awards, prizes and honours including being named a Dame Companion in this year's New Year's Honours list and being elected a Fellow of the Royal Society of London.
The Royal Society is widely regarded as the world's most prestigious scientific body and she is the first New Zealand-based woman scientist to be elected to its ranks.
Professor Brimble's research sits at the interface of chemistry and medicine and focuses on developing bioactive compounds that can be synthesised for development as potential treatments for a wide range of diseases including cancer and infectious disease.
Drug discovery can take years or even decades and her work is regarded as pioneering. It led to the development of a drug called Trofinetide, a new treatment for Rett Syndrome, Fragile X Syndrome and autism disorders. The drug is in the last stages of formal approval.
Once approved, it will be the first drug to be developed successfully by a New Zealand company and one of only a few to be discovered in an academic laboratory.
Professor Brimble's research group is also developing innovative chemical technology to generate cancer vaccines. This work is being translated for clinical use by the spin-out company SapVax which is developing a pipeline of products for the treatment of different cancers.
She holds the Chair of Organic Chemistry and is Director of Medicinal Chemistry in the School of Chemical Sciences and the School of Biological Sciences. She is a Principal Investigator in the Maurice Wilkins Centre for Molecular Biodiscovery and past-Chair of the NZ Royal Society Te Apārangi Rutherford Foundation.
A Fellow of the Royal Society of Chemistry UK, the NZ Royal Society Te Apārangi, the Royal Australian Chemical Institute and the New Zealand Institute of Chemistry, Professor Brimble is a recipient of the 2016 Marsden Medal, the 2012 RSNZ Rutherford Medal (NZ's top science prize) and the MacDiarmid and Hector Medals.
She is a passionate advocate for women in science and regularly speaks to groups of young women to encourage them to consider science as a career. In 2007 she was named the 2007 L'Oreal-UNESCO Women in Science laureate in materials science for Asia Pacific and in 2014 received the Westpac Trust Women in Influence Award for Science and Technology.