Matthew Freeman Trundle, a friend indeed
Obituary: An extraordinary capacity for friendship is the common theme of all the accolades for Professor Matthew Trundle since his untimely death on 12 July at only 53, writes Marcus Wilson.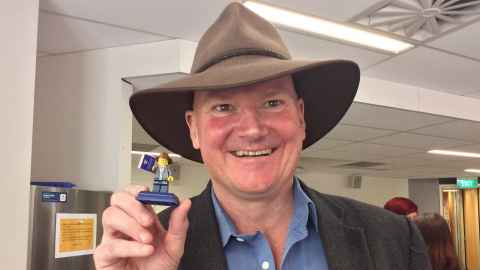 Matthew was appointed Professor of Classics and Ancient History at the University of Auckland in 2012 and he proved to be a hugely supportive leader among his colleagues in the discipline and in the School of Humanities, as well as an immensely popular lecturer.
All his relationships were characterised by his personal interest in people as well as his passionate devotion to the highest academic ideals. The greatest loss will be felt by his wife Catherine, herself an academic at Victoria University, Wellington, and their young son, Christian.
But all those who knew him in Auckland are also deeply affected by his sudden passing. Many of us have to remind ourselves that he will not turn up on the eighth floor of the Humanities building tomorrow morning, kitted out in his characteristic blue shirt and Indiana Jones hat, his voice and laughter echoing down the corridors.
In his research, the name of Matthew Trundle is renowned internationally for his development of two features of ancient Greek history and his exploration of their interconnection; namely warfare and economics.
His book Greek Mercenaries from the Late Archaic Period to Alexander (Routledge, 2004) is now the standard study of mercenaries in the Greek world. He followed this by an outstanding series of articles, edited volumes and chapter contributions which delve further into this and other topics, as well as conference panels and seminars.
Of particular note are his co-edited volumes New Perspectives on Ancient Warfare (Brill, 2010) and Beyond the Gates of Fire (Pen & Sword, 2013). Additional publications in press or forthcoming over the next two years include his monograph on The Isthmian Inscriptions of the Roman Period (from the University of Chicago and the American School at Athens), several co-edited books including, volume I of The Cambridge World History of Violence: The Prehistoric and Ancient Worlds; Brill's Companion to Sieges in the Ancient Mediterranean (co-edited with Auckland colleague Jeremy Armstrong) and A Companion to Greek Mercenaries in the Classical and Hellenistic Mediterranean.
He also made contributions to other collaborative research projects including Piracy, Pillage and Plunder in Antiquity: Appropriation and the Ancient World, due out in August 2019 from Routledge.
Matthew remained an inveterate international traveller, researcher and conference participant who stood at the centre of a wide network of ancient historians and archaeologists.
It was while on research and study leave last year that he was diagnosed with leukaemia, but even from his hospital ward he continued to research and write until the end. As a person who thrived on human interaction, Matthew was an academic who enjoyed lecturing.
He never shied away from any teaching task and was as willing to teach introductory language courses in Latin or ancient Greek as to expound his knowledge of ancient history to more advanced students.
Nor was he content to restrict his audience to the confines of the University but went out of his way to demonstrate the relevance of Classics and ancient history to the modern world; most notably through his regular guest spots on RNZ, his editorship for many years of NZACT, the bulletin of the New Zealand Association of School Teachers of Classical Studies.
In 2019, he also initiated a series of 'professorial lectures' at the University on ancient topics of enduring interest designed to demonstrate the relevance of the study of antiquity to the wider Auckland community.
Born in England, Matthew studied as an undergraduate at Nottingham University before transferring to Canada to take up graduate study at McMaster University. An academic post at Victoria University first drew him to New Zealand and, to our collective benefit, he made this country his home.
But he remained an inveterate international traveller, researcher and conference participant who stood at the centre of a wide network of ancient historians and archaeologists with whom he remained in regular contact. In addition to his own research, he energised others in his field.
Matthew's funeral on 23 July in Wellington was attended by many of his former colleagues from Victoria University and representatives of the Classics departments at Otago and Canterbury, as well as numerous former and current students.
Of all those who attended, whether fellow academics, professional staff, university administrators, graduates, undergraduates or others from outside the academic environment, none did so out of a sense of duty or expectation. All were there because Matthew touched them personally and they will greatly miss his presence in their lives.
Marcus Wilson is an associate professor in Classics and Ancient History in the School of Humanities in the Faculty of Arts at the University of Auckland.