US philanthropist gifts $2.7m to drive NZ medical advances
The Liggins Institute has received a $2.7 million grant from the Aotearoa Foundation, a private foundation founded by philanthropist Julian Robertson.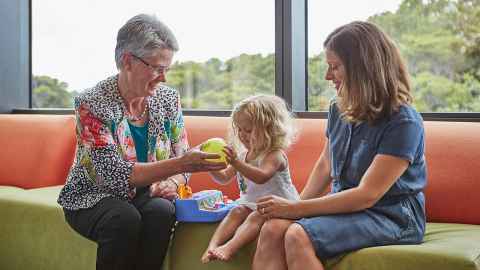 The grant will help the Liggins Institute stay at the forefront of research-driven advances in healthcare by supporting a crucial pipeline for tomorrow's star clinical researchers.
Clinical researchers are working doctors and other health professionals who often do research part-time alongside their clinical job. There is a shortage of skilled clinical researchers in particular, because students have limited opportunities for research training alongside their long years of professional training, and funding their salaries from research grants is difficult.
The biggest need in health research is reliable funding support for early career scientists so that they do not need to spend hours writing grant applications, followed by months of anxious waiting for the outcome. Currently, in New Zealand, fewer than 10 percent of all applications are successful.
The new grant funds will be used to establish a unique paid, two-year internship program, initially for undergraduate medical students. It will give them a taste of clinical research by working alongside internationally renowned clinical researchers at the University of Auckland-based Liggins Institute, while providing them with the training to allow them to go on to be researchers of the future.  
Training and funding the next generation of clinical researchers is vital for our ability to continue to improve the lives of New Zealanders.
The grant will also support the appointment of three early-career clinical research fellows to work at the Institute for four years. These Aotearoa Fellows will lead the development of new areas of research expertise, adding depth and breadth to the unique clinical research programme at the Liggins Institute.
The Aotearoa Foundation makes transformative grants to those with proven track records in world-class research and the translation of research to benefit patients worldwide.
Distinguished Professor Jane Harding will spearhead the project and says it has the potential to be transformative.
"Training and funding the next generation of clinical researchers is vital for our ability to continue to improve the lives of New Zealanders," she says. "In particular, attracting and supporting early career clinical research fellows is extremely difficult. This donation will mean that we will be able to offer internships and Fellowships that will not only attract and train the next generation of clinical researchers, but cover the salary of fellows who will be able to recruit PhD students and have sufficient funds to carry out research."
She says clinical research – research involving human participants – is the final step in a long chain. After initial modelling or lab-based studies identify new potential treatments or preventative measures, these then must be tested in humans to demonstrate that they are effective and safe before entering widespread use.
"Clinical research is critical to our ability to swiftly translate our findings into clinical practice and improve health outcomes for mothers, babies and others."
Professor Harding leads an ambitious research programme investigating the impact and treatment of low blood sugar in newborns – a condition affecting one in six babies born in New Zealand, which can potentially cause brain damage. The programme spans everything from diagnosis, treatment and prevention through to effects on later development. In 2013, her team showed for the first time that a simple $2 dose of dextrose (sugar) gel massaged inside a baby's cheek soon after birth works better than feeding alone for treating this condition, transforming treatment for at risk babies in numerous countries.
Professor Harding will be giving a free public lecture on Wednesday 7 August at the Liggins Institute in Grafton, Auckland, titled "Better brains or life-long health – is there a trade-off for at-risk babies?" 
The Liggins Institute is focused on improving lifelong health through research into the long-term consequences of early life events. Research has shown that the earliest experiences – even parents' diet and lifestyle before conception – can have a profound impact on babies' physical and mental development and their lifelong health. The Institute's vision is 'a healthy start for a healthy life'. Mother and baby health, nutrition and healthy lifestyle change are key areas.

Free public lecture by Professor Jane Harding:
Better brains or life-long health – is there a trade-off for at-risk babies?
5.30-7.30pm Wednesday 7 August at the Liggins Institute, 85 Park Road, Grafton, Auckland
For All Our Futures
New Zealand's most ambitious fundraising campaign was launched in September 2016 with the aim of raising $300 million to put towards programmes, research, and scholarships to help the University of Auckland contribute to some of the biggest questions facing society today.
Questions posed include: Can we dramatically improve cancer survival rates? Can we have clear rivers and seas? Can we prepare young New Zealanders to be global citizens and influencers?
Donors, trusts and foundations, alumni, staff, and friends of the University have contributed towards the campaign, indicating the areas they wish to support. The majority of the gifts have been made for a specific purpose, from funding significant chairs of study, to supporting scholarship initiatives. The campaign closes on 31 October and the final total will be announced on 21 November 2019. For more information: For All Our Futures.