A choral performance that asks the hard questions
"This was probably the most confrontational work in my 34-year career," says Associate Professor Karen Grylls, on conducting the recent New Zealand premier of David Lang's 'the little match girl passion'.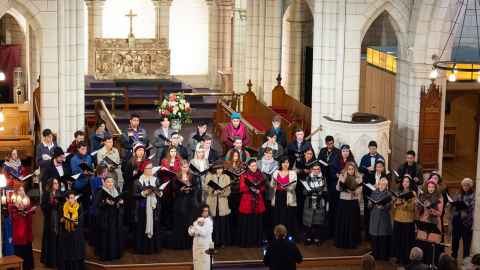 The composition, performed by the University of Auckland's Chamber Choir at St-Matthew-in-the-City, won the Pulitzer Prize in 2008. It is based on Hans Christian Andersen's story The Little Match Girl, but set in the format of Bach's Matthaus-Passion.
It is a fundamentally bleak story, of a girl who unsuccessfully tries to sell matches on the street and eventually freezes to death.
Themes of poverty and homelessness might not typically be associated with a choral concert, but this is a pertinent tale of our times, says Dr Grylls.
"Sometimes we need to go to a concert and feel lots of lovely fluffies and nice and warm, but art also has the ability to confront.
"We had a few people walk out of the performance," she says, suggesting it may have been too confrontational for some.
Dr Grylls, an associate professor in conducting and head of choral studies at the School of Music, wanted to challenge the choir of 47 singers. "I wanted them to tackle a minimalist, Pulitzer prize-winning score, one that needed considerable musical and story-telling skills.
Sometimes we need to
go to a concert and feel lots of lovely fluffies and nice and warm, but art also
has the ability to confront.
"The music is very rhythmic and minimalist. It has a sparseness to it. I wanted to confront them musically, but also personally, with what art can do and what performance can do."
It was a performance in which the members of the choir moved about, sometimes taunting the little match girl, mocking her and ignoring her, as she shivered in the cold.
Catrin Johnsson, performance teacher at the School of Music and director of the little match girl, is from Sweden and grew up with Anderson's stories which she says "helped instil important, warm-hearted values in young people and adults".
She based the staging on things she had seen and experienced in Scandinavia, Europe and here in New Zealand. "It's a tough tale to tell," she says, but her aim as director was to ask some hard questions.
"Why do we so often choose to 'unsee' the most vulnerable people amongst us? Why does child poverty exist in our country? What is our shared humanity? When terrible things happen in our community, we unite in a wonderful way and say 'This is not us'. So what is 'us'?
"The little match girl is not a nice story," she says, "but if our reactions to it result in actions, it could help us make vital steps to create a better society."
After intermission the choir changed out of their formal attire and turned up in gloves and coats, the street gear of winter. At one point they turned toward the girl, pulled out their mobile phones and took a photo of her.
Dr Grylls says it was a reference to the way some people up late at night in Queen Street, have been seen taking selfies of themselves with homeless people trying to sleep."
"It is an uncomfortable moment in the performance, with the rhythms of the Bach's passion and some of the words, and then 'click, click click click click'." 

Actor and second-year voice student Ebony Andrew played the little match girl. Her character freezes to death, and is wrapped in a New Zealand flag, like a burial sheet. "Because of course, poverty is our problem," says Dr Grylls.
The singers were emotionally challenged by the composition and staging, but in the end perhaps empowered by being able to use stage time to engage in social commentary.
A total of $750 was gifted to Variety's Warm Hearts Winter Appeal at the concert which, Dr Grylls notes, "is enough for seven beds".