Geremy Hema: how I keep spiritually alive
Geremy Hema has a grandmother with a sweet tooth to thank for his early introduction to te reo.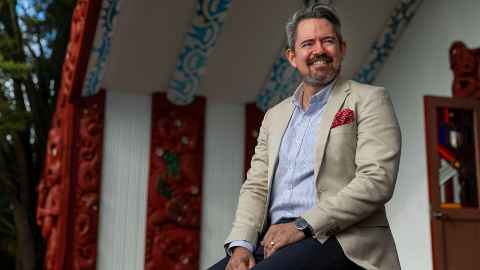 Geremy Hema: My Story
 
Geremy Hema is the kaiārahi for Auckland UniServices Ltd.
 
What does a kaiārahi do and what's the difference between that and a kaiarataki?
Kaiārahi describes a person who advises and assists in Māori matters. There are a number of us all over the University. The kaiarataki makes higher-level decisions spread right across the University. Our kaiarataki is Michael Steedman and his role is very broad. He also deputises for the Pro Vice-Chancellor Māori (Cindy Kiro) on committees and working groups.
What did you do before this role at the University?
I was part time as a kaiārahi in the previous Pro Vice-Chancellor Māori's office and part time in the Equity office. But then I took a year out to have a crack at being a lawyer in a large commercial law firm that has a Māori legal issues team dealing with Treaty settlements and post-settlement governance etc. It was great working with a team of sharp, young Māori lawyers assisting iwi in achieving the best for their members.
What did you study at university?
I did a BSc (Geography) in 2008, and an LLB, graduating in 2017. I'm also fluent in te reo.
It's Māori Language Week from 9-15 September. How did you learn te reo?
My paternal grandmother, my Nan, came to live with us. My mother's Irish and dad's Māori/French of Ngāti Paoa and Te Rarawa iwi. Nan grew up at a time when Māori really didn't start speaking English until they came to the city in the 1950s.
For the most part she spoke Māori around my brother and me. She was a diabetic and quite crafty because Mum didn't have a clue what she was talking about when she spoke Māori so Nan would ask my brother and I, in Māori, to go down the road and get her contraband … chocolates and lemonade.
What about at school?
I went to Stanmore Primary, then Orewa College and then boarded at Hāto Pētera College on the North Shore. Dad is Catholic and a Catholic education was important to him. I was heartbroken when Hāto Pētera closed because it was a big part of my life and perfect preparation for a life of spiritual awareness.
It was there I began driving for my uncle, the late Father (Pa) Henare Tate. He was an eminent scholar and priest. Over 20 years I had the privilege of driving him to hui and tangi. During school and university holidays, I worked in his office at Hāto Pētera. He was a giant in the Māori world and also our chief in our village of Motuti in the North Hokianga. When he died in 2017, thousands paid their respects. We miss him beyond belief, but he left us so much work to continue, we don't have time to feel sorry for ourselves.
How important is spirituality to you?
I thought about becoming a priest when I was younger. There were many great priests, nuns and brothers connected to our whānau and communities. They lived very simple lives and always seemed so happy and content in the company of their people, they brought them joy.
My grandmother would ask my brother and I, in Māori, to go down the road and get her chocolates and lemonade.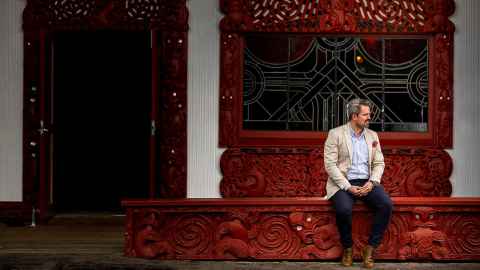 Which church do you align with now?
I've always been very ecumenical. So while I was a Catholic I was quite often invited by the Anglican Church to represent the Māori branch of the Catholic Church or to contribute to their events.
I came out to friends and whānau while at university. Everyone was cool with it, even the church. But it did naturally present a couple of sacramental barriers.
Over the years I drifted in the direction of the Māori branch of the Anglican Church. Their bishop, who's now my bishop, licensed me to be a lay minister. I still do tangi and house blessings and I'm on a roster to serve at church every weekend. It's great. It keeps you spiritually alive to be of use to others and to be Māori.
The Anglican Church has been a kind and accommodating spiritual home for me. My husband Kurt and I were married in April and our union was blessed in my whānau's little Māori Anglican church, Te Toko Toru Tapu, Mātaitai, just south of Clevedon.
I still keep strong links with the Catholic Church. I'm chairperson of a Catholic Museum Trust that's building a museum in our little village of Motuti, where Bishop Pompallier's remains are interred and the likes of Aunty Whina Cooper come from. It's my hobby outside work, looking after Māori church things.
What does a blessing involve? 
Friends moving into new flats often ask me to do a blessing and quite often they won't even know what they're asking for. They'll say 'can we have a karakia for our whare'? I lead a little blessing and whakawātea and it doesn't necessarily have to be because the house is new or because people feel there's something wrong with it. It's not because there could be a ghost or anything like that … it's just to make people feel welcome in their space. I describe it like this: it's taking the opportunity to come together as human beings to offer a ritual of some kind to provide us with grace and peace to dedicate the house to its new purpose.
At the University I have conducted them in offices left behind when people pass away. For new halls of residence we'll get in Ngāti Whatua to conduct a blessing.
When did you start at the University of Auckland and do you like it?
Michael Steedman and I started on the same day in 2010. I was at the Waipapa marae recently for Michael's pōwhiri where he was formally inducted as the new kaiarataki, Deputy Pro Vice-Chancellor Māori. During the oratory a number of people were mentioned – Dr Ranginui Walker, Nin Tomas, Dr Takutai Wikiriwhi, Sir Hugh Kāwharu, Jonathan Mane-Wheoki. They're all people who've passed away and we were very close to them.
It's not until you hear those names during the pōwhiri that you think to yourself 'this place allowed me to get to know them and drink from their wisdom'. So I feel really lucky for those opportunities and having a facility like Waipapa marae – a place that gives us life, right in the middle of the city.