The rough seas and smooth sailing of learning te reo
Opinion: For Māori Language Week, Keeghan Hei Hei and Aorewa Nahi share their experiences of learning te reo on Māori immersion teaching programme, Te Huarahi Māori.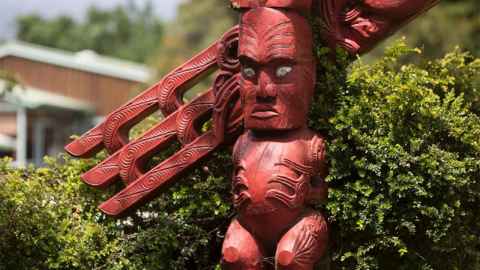 Te Wiki o te Reo Māori is a good excuse for the University of Auckland to celebrate 23 years of Te Huarahi Māori, the Māori immersion teaching degree programme at the Faculty of Education and Social Work.
Graduates from the programme develop professional knowledge and skills that enable them to teach the national Māori-medium curriculum Te Marautanga o Aotearoa, from te reo matatini (literacy), pāngarau (maths) and pūtaiao (science) through to hauora (health), hangarau (technology), ngā toi (arts) and tikanga ā iwi (social sciences).
Aorewa Nahi and Keeghan Hei Hei, both second year students on the programme, have written about their relationship with te reo Māori for Te Wiki o Te Reo Māori.
Te Reo Matahīapo
Aorewa Nahi, he tauira nō Te Huarahi Māori ki Te Whare Wānanga o Tāmaki Makaurau, Te kura Akoranga me Te Tauwhiro Tangata
Kei ngā reo pāorooro, ngā pari kārangaranga puta noa i te motu, e rere ana ngā mihi ki a koutou katoa. I runga i te wairua o te wiki whakanui i tō tātou nei reo matahīapo, e whakaaroaro ana au ki taku hāereere kōpikopiko ki te ako, ki te taute, ki te whakapakari i tōku ake reo.
Pērā i te piringa ki tētahi whaiāipo hou, he ōhiti tōku haere i te tuatahi, kātahi ka ruku hohonu i roto i tōku aroha mō te reo, kei mahurangi kē au. Ka kohikohi kupu hei reo mō ōku kare-ā-roto kātahi anō au ka rongohia, newanewa ana te rere i runga i te au, whāia nei ka tuarangaranga te au, ā, ka whēuaua te haere. Ānini pai te māhunga i ngā tikanga me ngā āhua o te wetewete reo, ka mutu, ka pōhēhē au he momo pēhitanga aua tūāhuatanga i runga i te mana me te wairua o te reo.
Ahakoa taku ngākaunui tonu ki te reo ka huri te rere o te au ki te wai whakaroau. Ka tupu tonu te reo o ōku hoa engari i eke tōku reo ki tētahi taumata noho ai, me te aha, ka pā mai te hēmanawatanga ki a au. I rangona e au tētahi whakatauākī e kī ana "He tawhiti rawa tō tātou haerenga ki te kore e haere tonu, he maha rawa ā tātou mahi ki te kore e mahi tonu". Nō kōnei ka huri anō te kei o tōku waka ki te ako. I ēnei rā i tūhuratia rawatia ngā āhua me ngā tikanga o te wetewete reo hei whakawhānui i tōku māramatanga ki ngā tini āhuatanga o te reo.
Āpiti atu ki tēnei, i ruku au ki roto i te terenga hou o te reo o te marautanga. E mara, he reo anō tēnei reo! Pono mārika, 'ko te reo te ara ki te māramatanga o te ao Māori'. Ka nui taku rekareka e takahi tonu ana au i tēnei ara.
Our precious language
Aorewa Nahi is a Te Huarahi Māori student at the University of Auckland's Faculty of Education and Social Work
Greetings to the many dialects reverberating from each corner of Aotearoa. In the spirit of 'Te Wiki o Te Reo Māori', I am taking time to reflect on my somewhat meandering path to learning, nurturing and strengthening my own language acquisition.
Similar to a new relationship, I was extremely tentative to begin learning at first. In time I was lost in the depths of my love for the reo, finding words for emotions I had just discovered, it was smooth sailing at first drifting on calm waters, then all of a sudden the going got tough. The details of grammar and syntax seemed completely foreign to me and I decided that they were not just irrelevant but stripping away any beauty of the reo. Although I still loved the reo, the growth of my reo became stagnant.
There are times when this learning process plateaus, I observed those around me excelling in the reo and I became more and more frustrated. There is a whakataukī: "We have travelled too far to not continue our journey, we have worked too hard to not keep working". So, my learning continues, I have decided to delve into grammar and syntax as a means to expand my understanding of the many aspects of te reo as well as discovering te reo Māori in the curriculum, I'm telling you, that is a language unto its own.
'Language is the key to understanding.' I am still in this process and loving it.

He moana pukepuke e ekengia e te waka
Keeghan Hei Hei he tauira nō Te Huarahi Māori ki Te Whare Wānanga o Tāmaki Makaurau, Te kura Akoranga me Te Tauwhiro Tangata
Tēnā koutou e te hunga e kaingākau nei ki te reo Māori.
Ko Keeghan Hei Hei tōku ingoa. Nō Ngāpuhi ki Te Tii, nō Ngāti Paoa ki Kaiaua hoki ahau.
"He moana pukepuke e ekengia e te waka." E whakaata ana tēnei whakataukī i ōku whakaaro ki te reo Māori. E pēnei ana taku haere mai i te tīmatanga o taku haerenga ki te ako, tae noa mai ki tēnei rā tonu. Ehara tēnei i te haerenga māmā. Ko te moana e hoea ana e au, he pukepuke, he karekare tōna āhua. Engari, ahakoa ngā ngaru e papaki mai ana ki tōku waka i ētahi wā, e hia kē ngā ngaru kua ekengia kētia. E hia kē ngā rā e marino ana te wai.
Ko tōku reo tōku oranga i te ao, i te pō. Ko ōku tūpuna ērā e akiaki nei, e whakahau nei i ahau ki te hoe tonu ahakoa ngā whakapātaritari o te wā. I a au e ako ana i te reo, ka hīkaka tōku wairua, ka koa hoki tōku ngākau. Koinā ahau i whai ai i tēnei tohu whakaako, kia pakari ake tōku reo, kia āhei ahau ki te whāngai i tēnei taonga a koro mā a kui mā ki ngā uri whakaheke. Ko tōku tino hiahia kia rongo aku ākonga i te reka, i te hōhonu hoki o tō tātou reo rangatira hei ngā tau e heke mai nei. Mā te kōrero i te reo e horapa ai.
Hei whakakapi i taku tuhinga, ka waiho ake i tēnei whakataukī hei whakaaroaro mā koutou. "He puāwai putiputi te Māoritanga, ko āna taketake ko te reo. Ka tapahia te puāwai putiputi ka mate te reo. Whakakorengia te reo ka mate te Māoritanga." E rere ngātahi ana te reo Māori me ngā tikanga Māori. Me hangarite tō whai i tēnā i tēnā kia kore ai e rangiruatia te hāpai o te hoe.
E mara mā, e hika mā, tēnā koutou katoa.
Rough seas can be navigated by a waka
Keeghan is a Te Huarahi Māori student at the University of Auckland's Faculty of Education and Social Work
Greetings to everyone coming together in celebration of Māori language week. My name is Keeghan Hei Hei and I am a descendant of the tribes Ngāpuhi and Ngāti Paoa.
This whakataukī reflects my thoughts and feelings about te reo Māori. My journey has been much like the rough seas, right from when I first started learning te reo to the challenges that I continue to face today. This journey in obtaining my language has by no means been an easy one. The seas that I am navigating on my learning journey are rough and unpredictable. Despite the many challenges and difficulties, in order to keep moving forward I often remind myself that I have already overcome many obstacles along the way and that eventually the seas will calm. There are definitely times when I appreciate my journey for all that it is.
Te reo is an integral part of my everyday life. My ancestors are always with me, encouraging and motivating me to keep going. Learning te reo is exciting, fulfilling and it feeds my soul. This is why I chose to become a teacher, to continue strengthening my reo and to be able to teach this beautiful treasure to our next generation. I look forward to seeing my future learners recognising the richness and depth of te reo. Speaking it is the only way for our language to spread far and wide.
To conclude this piece, I will leave this whakataukī with you. Māoritanga is a blossoming flower, its roots represent te reo. If you sever the flower, te reo will not survive. If you take away the roots, Māoritanga will not survive. Te reo and tikanga go hand in hand, both need to be practiced and embodied to survive.
Aorewa Nahi and Keeghan Hei Hei are students at the Faculty of Education and Social Work.
This article reflects the opinion of the authors and not necessarily the views of the University of Auckland.
Used with permission from Newsroom The rough seas and smooth sailing of learning te reo on 11 September 2019.
Media queries
Alison Sims | Research Communications Editor
DDI 09 923 4953
Mob 021 249 0089
Email alison.sims@auckland.ac.nz