Undergraduate study in Huarahi Māori
Ko Te Puna Wānanga tēnei e mihi atu nei ki a koutou e hiahia ana kia whakangungua hei pouako mō ngā kura e whakaako ana mā te ara o te reo Māori.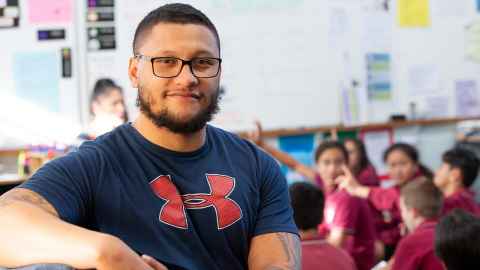 If you are proficient in te reo Māori, the Huarahi Māori specialisation will equip you to work as a primary teacher in Māori-medium schools (including Kura Kaupapa Māori, Kura ā iwi, immersion and bilingual schools and classrooms), as well as English-medium primary and intermediate schools. 
You will be in high demand as there is a national shortage of te reo Māori teachers in bilingual settings.
The programme is shaped by a commitment to fairness and social justice. It is underpinned by the principles of Te Tiriti o Waitangi and a commitment to ensure equitable outcomes in learning. The qualification will allow you to be a leader in the Māori world, with knowledge across a range of areas.
The Huarahi Māori specialisation is taught at both our Epsom Campus in Auckland and Tai Tokerau Campus in Whangārei.
What can you study in Huarahi Māori?
Complete a Bachelor of Education (Teaching) specialising in Huarahi Māori to teach at Māori-medium and English-medium primary and intermediate schools (typically students aged 5–13) in Aotearoa. Upon graduation, you will be eligible for provisional teacher certification.
The programme will introduce you to the Māori-medium curriculum Te Marautanga o Aotearoa, and its learning areas te reo matatini (literacy), pāngarau (mathematics), pūtaiao (science), tikanga ā iwi (social sciences), hangarau (technology), hauora (health and physical education) and ngā toi (the arts). In addition, you will learn about planning, teaching and assessment, the role of the teacher, bilingual education, Māori language revitalisation, the history and sociological context of New Zealand education and developmental and psychological theories of learning.  
Where can you study Huarahi Māori?
The 2022 TeachNZ Scholarship
Get your studies fully funded with a TeachNZ Career Changer scholarship.
Applications open on 1 February 2022.
Structuring your undergraduate study in Huarahi Māori
The Bachelor of Education (Teaching) Huarahi Māori specialisation consists of 360 points: 120 points each year, mostly comprised of 7–8 compulsory 15-point core courses at each level. Most students opt to complete their General Education course in their first year of study. Otherwise they will need to do so in Summer School. They have a wide range to choose from:
General Education courses on offer.

Ngā Kōwae Ako | Courses
Explore the undergraduate courses you are required to take for the Bachelor of Education (Teaching) – Huarahi Māori specialisation.
Tau Tuatahi | Year 1
EDCURRM 117 Ngā Toi: He Whakatakinga
EDPROFM 101 Te Reo Māori 1
EDPROFM 102 Pakirehua Ngaio - Te Ako
EDCURRM 108 Pāngarau: He Whakatakinga
EDCURRM 109 Te Reo Matatini 1: Te Pihinga
EDUCM 106 He Tirohanga ki te Mātauranga i Aotearoa
EDPRACM 100 Noho ā Kura 1
One course from the General Education schedules available for this programme

.
Tau Tuarua | Year 2
EDCURRM 119 Tikanga ā-iwi: He Whakatakinga
EDPRACM 204 Noho ā kura 2
EDPROFM 208 Pakirehua Ngaio - Te Whakaako
EDPROFM 203 Mātauranga: Te Whakawhanake Hapori Ako
EDCURRM 113 Hangarau me te Pūtaiao - He Whakatakinga
EDPROFM 204 Te Reo Māori 2
EDPROFM 304 Ako mā te Aromatawai 
EDUCM 203 Te Atawhai i te Rerenga Kētanga 
Tau Tuatoru | Year 3
EDCURRM 201 Pāngarau: He Puāwaitanga
EDCURRM 203 Te Reo Matatini 2: Te Puanga
EDUCM 324 Whiria Te Kaha Tūātinitini
EDPROFM 307 A/B Pakirehua Ngaio - Te Pouako Pakirehua 
EDPRACM 304 A/B Noho ā Kura 3
EDPROFM 302 Te Reo Māori 2
EDCURRM 111 Hauora 
EDCURRM 205 Hangarau me te Pūtaiao - He Whakawhanaketanga 
Te Aromatawai me te Noho ā-Kura | Assessments and Practicum
You'll be assessed through assignments, practical work experience in schools and examinations. You can submit your assignments in te reo Māori or English.
Practical experience in school, or practicum, is critical to understanding what it's really like to be a professional teacher. You'll develop practical skills by observing and teaching in Māori medium, bilingual and mainstream classrooms during noho ā kura (practicum) for 20 weeks over the course of your study. You will complete a minimum of two practicums in a Māori medium classroom and your third placement can be in a school of your choice, either English or Māori-medium.
You'll have the support of an associate teacher, who is responsible for providing opportunities for you to meet the specific requirements of the practicum, reflect on your practice, and be actively involved in your own learning. Associate teachers contribute to evidence-based assessment in relation to course learning outcomes and the Teaching Council of Aotearoa New Zealand's Standards.
Ngā ara kei tua atu i te Huarahi Māori | Where can undergraduate study in Huarahi Māori take you?
Our graduates are in high demand as teachers. You will qualify as a primary teacher in Māori-medium schools including Kura Kaupapa Māori, Kura ā iwi, immersion and bilingual schools and classrooms, as well as English-medium primary and intermediate schools. Teaching also equips you with a range of transferable skills that can be applied in many professions.
Primary school teachers are highly sought-after in New Zealand.

Jobs related to Huarahi Māori
Community and youth development
Curriculum development and leadership

Teacher
School leadership and management

Working with iwi and community groups
Further postgraduate courses offered by Te Puna Wānanga include
EDUC 716 Education and Diversity: This course explores educational approaches to ethnic, cultural and linguistic diversity including antiracist education, bilingual education, cosmopolitan education and critical multiculturalism.
EDPROFM 701 Special Topic: Te Reo in English Medium: This course develops teaching approaches that support the learning and teaching of te reo Māori and tikanga in English-medium settings.
EDUC 787 Researching Māori Education: This course examines approaches to educational research with, by and for Māori and Pasifika people
Further study options include
Scholarships and awards
Help and advice
The Student Hubs services are available seven days a week at the City, Grafton, Epsom and Tai Tonga campuses and six days a week at Tai Tokerau, with friendly staff available to provide you with advice on any aspect of your studies and life at the University. Find out more.

During your studies we have a dedicated team of staff to support you – whether academic or personal. There is also a range of support services specific to Māori students.