Lifetime Achievement Award for Emeritus Professor Graeme Aitken
Emeritus Professor Graeme Aitken was formally acknowledged for his distinguished 42-year career in education by the Ministry of Education.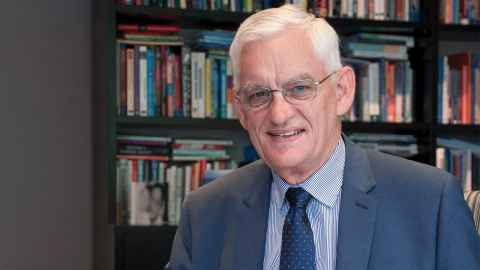 At the annual Prime Minister's Education Excellence Awards last week, Hon Chris Hipkins, Minister of Education, presented Professor Aitken with a Lifetime Achievement Award.
The award was a fitting accolade for a popular and dedicated educator who spent nine years as the Dean of the Faculty of Education and Social Work.
During his time as Dean, Professor Aitken formed the initial partnership with TeachFirst NZ that enabled field-based teacher education to become established in New Zealand secondary schools.
Professor Aitken, who formally retired from the Dean's role in 2017, currently works as the Director of Educational Initiatives within the Vice-Chancellor's office. He initiated and leads the development of Stem Online NZ, a free interactive teaching and learning resource designed for New Zealand teachers and students.
In his introduction, Minister Hipkins said that Professor Graeme Aitken "has dedicated his life to education" and has a distinguished and long career, which started with teaching geography, history and social studies at Waitakere College.
"Over more than a decade as a teacher educator, Graeme influenced the futures of a new generation of teachers and influenced the way that practising teachers thought about what it means to teach effectively and creatively.
"His thinking and writing about teaching effectiveness culminated in his co-authored 'Effective pedagogy in social sciences/tikanga ā iwi: Best evidence synthesis iteration' and a model of Teaching as Inquiry that features in the New Zealand Curriculum and informs the practice of most New Zealand teachers.
"Drawing on his teacher education experience, Graeme has advised the Ministry of Education on the development of the standards for graduating teachers. He has continued to advise the Teaching Council on the use of its standards as part of the approval process for teacher education programmes offered by tertiary institutions.

"Throughout his career Graeme has aimed to contribute insights into practice that helps decision making by policy makers, schools and teachers in the best interest of learners and learning," Minister Hipkins said.
Click here to view the award ceremony. The Lifetime Achievement Awards announcement starts from 2.08.46 in the video.