Spring graduation for University of Auckland
More than 2000 gowned students will process through Auckland's central streets this Tuesday 24 September as the University of Auckland celebrates its Spring graduation.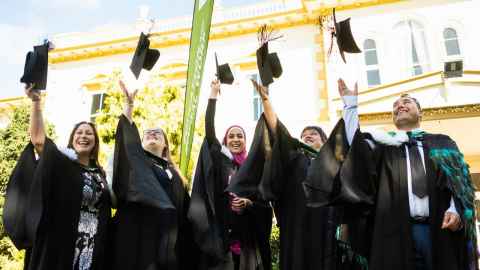 The smaller Spring graduation has just one procession (compared with three for the May graduation) starting at the University of Auckland Pavilion on Old Government House grounds and ending at the Aotea Centre.
There will be four graduation ceremonies during the day (which will be webcast live), as well as a Pacific celebration on Wednesday 25 September at the Fale Pasifika and a Māori celebration on Saturday at the Waipapa Marae.
The evening graduation ceremony is the largest ever held by the University, with 590 students graduating in person, including 39 PhD students. In total 3,135 qualifications will be awarded on the day, with 2,270 students to graduate in person and 792 to graduate in absentia.
In all, 67 people are gaining more than one qualification, including five people who will receive three qualifications. Ages range from 21 to the oldest graduate at age 77, who will receive a Doctor of Philosophy in French.
The Business School has the highest representation with more than 851 qualifications to be conferred, followed by the Faculty of Science which will award 784 qualifications. Science will graduate the largest proportion of PhDs.

Women graduands continue to outnumber men (as they have for more than a decade), with 1,531 females compared to 1,313 males.
Speakers at the ceremonies are Michael Steedman (Science), the Kaiarataki in the office of the Pro Vice-Chancellor Māori at the University of Auckland; Mitchell Pham (Business and Economics), a Vietnamese refugee and founder of the Augen Software Group and a tech ambassador for New Zealand; David Gaimster (Arts), CEO of Auckland Museum; and Raveen Jaduram (Engineering), the Chief Executive of Watercare.
Chancellor Scott St John will officiate at the ceremonies with Pro-Chancellor Cecilia Tarrant and Vice-Chancellor Professor Stuart McCutcheon.
Professor McCutcheon congratulated the graduands ahead of the ceremonies for their achievements both in and out of the classroom.
"Last week we announced the international Graduate Employability Rankings results (top in New Zealand and top five in Oceania) which demonstrate that University of Auckland graduates are highly likely to get meaningful employment and go on to have an impact on the world," he said.
"We know that gaining a degree is hard work. But it offers a rich and meaningful experience that adds considerable value to people's lives – and practically it has an effect on employability of individuals, and the development of our society – in New Zealand and globally.
"We are extremely proud of all of our graduates and wish them every success in the future."