Neuroscientist Cathy Stinear: professor revolutionising stroke rehabilitation
With a 40 percent increase in stroke expected in Auckland in the next decade, the work of Professor Cathy Stinear and her team is crucial.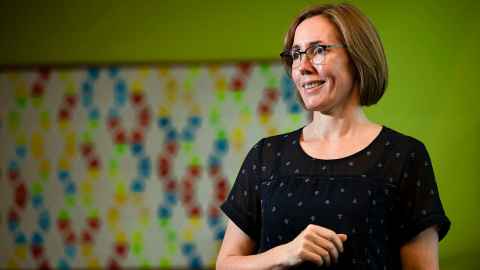 At Professor Cathy Stinear's inaugural lecture in July, she told a story about dropping out of school halfway through seventh form and 'running away with the circus'.

She was 17 and had sworn she'd never go to university. The circus stint didn't involve trapeze or acrobatics – it was a summer job, helping seat the audience and assisting a clown, for an international circus that had come to town.

But acrobatics did come along a short time later. Over the next couple of years Cathy gained her commercial pilot's licence and worked as a flying instructor, which included teaching aerobatics.

"Knowing what I know now about brain maturation, that is totally irresponsible!" she told the audience at her inaugural lecture. By the age of 23 Cathy had changed her mind on further education and started studying at the New Zealand College of Chiropractic. But it was the neuroscience aspect that fascinated her so she enrolled in her masters at the University, then a PhD.

Now a top neuroscientist, she is deputy head of the Department of Medicine, a professor and embedded in the Auckland District Health Board's Stroke Unit at Auckland City Hospital where she translates her research into clinical practice every day.

Cathy's specialist field is stroke rehabilitation and with a 40 percent increase in the incidence of stroke predicted in the Auckland region in the next decade, her expertise is vital.

"That's a very big number and one of the reasons the ADHB is investing $30 million in a new integrated stroke unit," she says.

Cathy says most strokes are preventable. "There are the obvious things like high blood pressure, smoking, high cholesterol and poorly managed diabetes. Those things can definitely increase your risk. Other things have nothing to do with your lifestyle. Certain heart conditions can put you at elevated risk even though you've lived an impeccable life."

Although the risk of stroke does increase with age, a stroke can occur at any stage of life.

"About a third of people who experience stroke are working age, under 65. But a stroke can happen before you're born, around the time you're born and throughout childhood as well."

When a younger person has a stroke, people often don't recognise the warning symptoms so may not follow the FAST test (Face, Arms, Speech and Time) because stroke isn't the first thing they think of. This can lead to delays in treatment.

"It can be devastating and also very surprising for younger adults, teens and children. I was chatting with a mum and grandma recently whose little boy was 11 when he had quite a nasty stroke and nobody cottoned on. I think an understandable sense of 'what if' results – frustration that it wasn't picked up a bit sooner."
Clinicians become more confident and they personalise people's rehabilitation … that helps patients leave the hospital about six days earlier, which is good.
RESEARCH AT THE COAL FACE
While Cathy does collaborate with other researchers at the University on stroke research, she collaborates most closely with the clinicians at the ADHB.

"The hospital is where we do most of our research and if we didn't have really good relationships with the clinicians and management there then it wouldn't be possible for us to do the work we do in stroke.

"What we're interested in doing is making predictions that clinical teams can use to help make decisions about a person's rehabilitation, and about where they're likely to go when they leave the hospital ... back home or elsewhere."

She's thankful for the generosity of people who have had a stroke, who agree to become involved in research projects.

"Our team of biomedical scientists and clinicians screen the ward every day to see who's been admitted in the past day. They identify people who might be interested – and who it's appropriate to approach – in taking part in our stroke research."

She says most people are open to being involved. "They're amazing. I'd say 95 plus percent agree to take part. It's incredibly humbling and a constant reminder of how privileged we are to work with patients and families, within just a couple of days of what might be one of the worst things that's ever happened to them.

"It's an amazing thing to work with people at that tricky point in their lives. The research is hopefully going to help other people coming along behind them."

Cathy has several research projects running that look at outcomes for recovery following stroke.

"One of those is an algorithm that I'm working with various DHBs on, called the PREP2 algorithm. It's been developed and validated to predict hand and arm outcomes after stroke."

She says rather than being a computer-style algorithm it's a clinician's 'decision tree'.
"It enables a clinician to combine a simple measure of strength of the hand and arm and the patient's age, within three days of stroke symptom onset, and predict what the outcome will be for the hand and arm in three months.

"About a third of patients will need an additional test, using non-invasive brain stimulation to see whether the connections between the brain and the spinal cord still work. The patient has a better prognosis if these connections are still able to carry movement commands from the brain down to the body."

The reason the algorithm is useful is because it's a powerful predictive tool for recovery.

"It's the first prediction tool in stroke rehabilitation to be implemented in clinical practice in the world," says Cathy. "We've done the research around what happens when you use this in the real world. How do clinicians change their behaviour? They become more confident and they personalise people's rehabilitation … that helps patients leave the hospital about six days earlier, which is good."

Other DHBs are interested in that and there's already a website up and running to support hospitals in North America, Europe and Asia to implement it as well.

"We're really busy helping other people use this knowledge, which is exciting," Cathy says.

Another algorithm, called TWIST, is being developed with a research fellow in the group, Dr Marie-Claire Smith.

"This is a really neat algorithm because it predicts not just whether someone will be able to walk by themselves after stroke, safely on their own, but also approximately when. Being able to walk safely on your own determines where you will live. If you can't walk safely, you can't live alone so you can see that it has massive implications for families.

She says knowing this in advance is very good for families. "If we can tell them 'in six weeks mum will be okay to go back to her own home', then they won't rush off and sell her house.

"Having some actual information about what to expect from the beginning instead of just 'oh we don't know, we'll wait and see' will help people as they redefine their lives."

As well as human observation, technology plays a part. Cathy is working with speech language therapist Dr Anna Miles on a mobile app to predict recovery of swallowing.

"It lets you predict the likelihood of someone needing temporary or permanent tube feeding, within a couple of days of the stroke. At the moment clinicians have to see what happens, but if the patients are nil by mouth they get weaker and weaker and it delays starting rehab.

"If we know at the beginning, it's much easier. For example, we could say 'let's put in a temporary tube just to get you through this little hump and keep your strength up while you start rehabilitation, and then it'll come out later'."

In 2020 the new integrated stroke unit will open at Auckland City Hospital and will provide a real focal point for excellence in stroke research.

"We're looking forward to being part of that. It's every clinical scientist's dream to develop something that people use in the real world.

"We have a huge amount of expertise here across those two organisations – the University and the DHB – working together to identify the most promising tools, testing them in the real world and then rolling them out to other DHBs. I love the challenge of it.

"We can go from having evidence, to testing, to putting it into routine care here in just 18 months. That's really quick so people can benefit much faster from these new discoveries."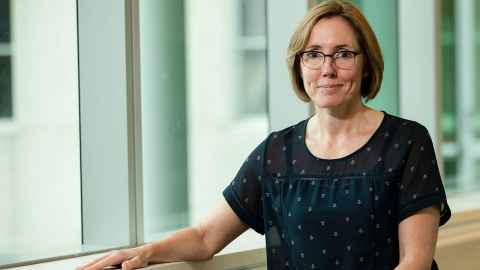 PATH TO PROFESSOR
Cathy says her recent promotion to professor was a proud moment.

"I didn't realise it until I got there. It probably made me grow a few centimetres … that endorsement from your peers, your colleagues and your institution means so much. I might not be right and I might not be agreed with but I feel more confident to say 'well this is what I think'."

She comes from a long line of teachers on both sides of her family and her father, James Stinear, did a PhD in neuroscience in his 50s, completing his doctorate just before she did. Now he's an associate professor in Exercise Sciences at the University.

Cathy describes herself as a non-conformist. When she was young, all her friends were heading to university but she chose not to, despite her obvious intellectual ability.

"It's important for younger people to remember that actually you will always have choices in front of you," Cathy says.

"When I talk with parents and young people, I try to help them not to feel pressured to study certain things. I say 'remember that this isn't the last decision you're ever going to make'. You don't have to go the expected route."

In Cathy's case that also applies to her mode of transport. She rides a motorcycle.

"Yes, as a neuroscientist, I get sideways looks for riding a motorbike. But it's a lot of fun."
– Denise Montgomery
Email: denise.montgomery@auckland.ac.nz