Computer scientist awarded Romanian equivalent of knighthood
Professor Cristian Calude has been awarded the Romania equivalent of a knighthood for his work in computer science and mathematics and his contribution to cultural and educational relations between New Zealand and Romania.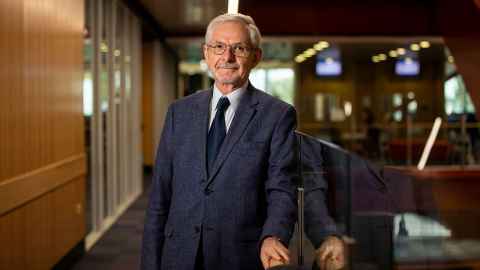 The citation from the Romanian Presidency confers the National Order of "Faithful Service" in the degree of Knight from the President of Romania, Mr Klaus Iohannis.
Professor Calude is a highly respected academic and leading researcher in his fields of theoretical computer science and quantum computing.
He has authored or co-authored eight books and more than 270 academic papers and lectured at universities around the world including China, Europe, North and South America, Singapore and South Africa.
He is one of the two kiwis elected a member of the Academia Europaea (the Academy of Europe) which aims to promote European research, advise governments and international organisations on scientific matters and to promote interdisciplinary and international research.
Born in Romania in 1952, Professor Calude graduated from the University of Bucharest and spent his early academic career there, becoming Professor before taking up a position at the University of Auckland in 1992.
One of his fields of academic research is quantum computing, an area that is so complex, many wonder whether the mathematical and physical challenges involved will ever be overcome.
But he believes that, like AI, quantum computing is moving slowly toward significant practical applications although probably not in the ways they are imagined today.
"Quantum computers will not make classical computers obsolete but a hybrid approach, combining quantum and classical computing, could be a strategy in solving some difficult problems facing the field."
He was surprised but delighted to be awarded such a high honour by Romania.
"Naturally, I was surprised but it is particularly rewarding because it refers not only to my academic work, but also to my contribution to the relations between New Zealand and Romania."