Pioneering work in laser science recognised
A pioneer in ultra-fast laser science, Professor Cather Simpson, has been named winner of this year's Pickering Medal by the New Zealand Royal Society Te Apārangi.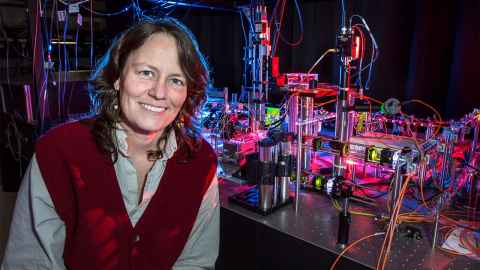 The country's top annual science prizes, the 2019 Research Honours Aotearoa, recognise scientists who have made an outstanding contribution in their field.
The Pickering Medal is awarded for excellence and innovation in practical applications of technology.
Professor Simpson founded the Photon Factory at the University, which has achieved significant advances in photonics, the creation and manipulation of light, expected to be one of the most important areas of science in coming decades.
In the past ten years she has led cutting-edge cross-disciplinary research in physics, chemistry and engineering and has built the Photon Factory into a global powerhouse in ultra-short pulsed laser micromachining and microfabrication.
Her work is internationally recognised for providing critical insight into how molecules and materials convert light into more useful types of energy, and applying this knowledge in new and exciting areas such as sperm sorting for the dairy industry.
The spin-out company that resulted from that work, Engender Technologies, was bought by a world-leading international herd-improvement company and she now plays a key role in bringing Engender's technology to full commercialisation.
Professor Simpson actively engages in science communication with a broad range of audiences and is a highly sought-after keynote speaker both in New Zealand and overseas on how academic research can be blended with entrepreneurship.
The first woman to be named a Supreme Winner at New Zealand's Kiwinet Research Commercialisation Awards, she is a strong supporter of women pursuing careers in science, particularly at the most senior levels. A popular and supportive teacher and mentor, she was awarded a national teaching excellence award in 2013.
Professor Simpson is a Fellow of the Royal Society of New Zealand and the New Zealand Institute of Chemistry, and a past president of the New Zealand Institute of Physics. She has been a principal investigator for the MacDiarmid Institute and a science leader for the Dodd-Walls Centre for Photonic and Quantum Technologies where she took an executive leadership role.
She was delighted to be named winner of the Pickering Medal for 2019.
"Seeing photonics have such a positive impact has been very rewarding and with the excellent team of scientists and engineers I have had the privilege to work with, both in and out of the University, my research at the Photon Factory is easily the highlight of my career."
Media contact Anne Beston | Media adviser
DDI 09 923 3258
Mob 021 970 089
Email: a.beston@auckland.ac.nz