Morag Atchison: big voice, big year
Dr Morag Atchison is a leading soprano who teaches voice in the University of Auckland School of Music.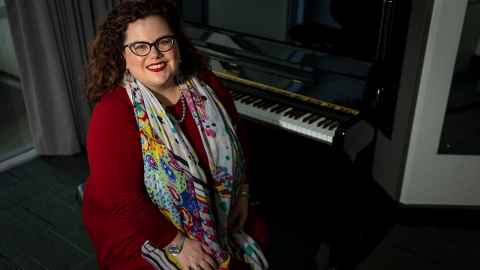 It's been a busy year for soprano Dr Morag Atchison, director of undergraduate studies and lecturer in voice at the School of Music. On top of teaching, around four months went into rehearsing and performing as Berta in New Zealand Opera's Barber of Seville.

"I'm really fortunate I had a lot of support from the School of Music and it actually fitted in quite well with the University break and exams. The students were also really supportive. They understood that lessons would be at different times every week."

Morag hopes the students also learned a lot by coming to the show.
"A number of them came twice in Auckland and when some of them were down in Wellington with the New Zealand Youth Choir, they came again.

"It's exciting for our students to see their teachers perform because we talk to them so much about performance convention and performance practice and what better way than to actually see it?"
Morag won a lot of praise for her performance, with William Dart in the Herald commenting: "We first thrill to Atchison's vocal heft when she soars above the first act finale but her own worldly wise aria is a showstopper."

"It was great to play a character on stage with a cigarette in one hand and a vacuum cleaner in the other, just making comments on everything," says Morag. "Berta has a lot of personality and there was also a certain amount of empathy for her which is really important when you do a comic character. It's not just all comedy, you have to be able to show you know the real person."

Morag has been back home since 2003 after she spent seven years in the UK – first as a postgraduate student at the Royal Academy of Music and then working in the UK and Europe. She's teaching classical vocal performance at the University and is also a vocal tutor for the NZ Youth Choir and the University of Auckland Chamber Choir.

"I eked out every visa I possibly could to stay in the UK so at first it was very hard coming back because a lot of New Zealand singers over there are doing really well and can stay because they have the right passport or through their parents or grandparents. But I'm a fifth or sixth-generation New Zealander on all sides.

"I'm also a soprano and there are so many sopranos. At the time I was due to leave it was so hard to even get an audition if you didn't have the right-coloured passport."

But when she returned, she found something to fall back on. "I always enjoyed teaching and did a little bit before I left New Zealand, then taught at undergraduate level at King's College, University of London. I'm in a really fortunate position with my job here. And teaching makes me better as a performer too because I get to work on so many different aspects and techniques every day."

She says it did take a while to get her head around the fact she was now lecturing at her alma mater.
"When I first started here, I felt like a bit of a fraud walking up to the staff room, thinking 'am I actually allowed in here?' What's so nice for me is I do the majority of my teaching in the very room I was taught in. Beatrice Webster taught me and my colleague Robert Wiremu."
It was great to play a character on stage with a cigarette in one hand and a vacuum cleaner in the other, just making comments on everything.
Morag comes from a family who loves music and her mother sang in the university choir at Victoria University.
"My sister's also a very good chorister. She came through university here as well and sang in UniSingers as it was then. She has also sung in the Glasgow Chamber Choir and in Toronto and Edinburgh, where she did a PhD in English literature. She's now teaching at Mt Albert Grammar and loving it."
Her family has strong connections to the University. "My grandmother got her BA from the University of Auckland and my father did his BCom here. My brother did his LLB and BA here and my mother finished her BA here, then did an honours degree.
In 2013 Morag became the first person in New Zealand to earn their Doctor of Musical Arts (DMA) in vocal studies.

"It helped me solidify my ideas of trying to be both a soloist and part of an ensemble. You spend your life as a young singer trying to get solo jobs yet most of the jobs you first get are in an ensemble.

"Most of our really exciting young singers going away now have been members of the Auckland Chamber Choir or the New Zealand Youth Choir."

She says the redesigned curriculum that began in Semester One is perfect for today's musician and student.
"We have a fantastic new degree. It's exciting to see the opportunities students are getting and how that's going to knock on into postgraduate study for them as well.

"Students can still do pure performance, composition, musicology, jazz or pop but, for most musicians, solely performing is not going to be your entire life, as I've shown. There's going to be teaching, admin, music technology, so this degree really is a modern degree.

"Our students don't have to be stuck just in one area, they can broaden their horizons."

The School has a big musical theatre competition in Semester Two. "It's a wonderful opportunity for our singers as most classical singers nowadays will have to do music theatre at some point. You have to be versatile."

Morag's dream role would be as Lady Billows in Albert Herring by Benjamin Britten. "It's over the top, such a fun part. She's a very posh, sort of late-middle-aged lady who blows her own trumpet. She's a wonderful character."

In October she was in Taonga Moana: A Love Letter to the Oceans with Voices New Zealand, the national chamber choir. Fellow Auckland staff including Gregory Camp (baritone), Catrin Johnsson (vocal consultant) and Karen Grylls (conductor) were involved.

"Then in December, because I'm a vocal consultant to the New Zealand Youth Choir, I'm going with them on the 40th-anniversary tour which is a three-week cruise around the Pacific Islands: Samoa, Tonga, Niue, Fiji, New Caledonia."

With exams part of the course, the question has to be asked, if you're a singer and you get sick before an exam, can you still sing? Or should you?

"You may only feel 100 percent 20 percent of the time so you need to find strategies to be able to sing when you're not a hundred. But we also teach them when they can and can't sing."

She says that also applies to social nights out.
"If you're feeling run down, sick or moody, it's going to manifest because your instrument is your voice. If you have an excellent night out, your instrument comes with you."  
- Denise Montgomery
This article first appeared in the November edition of UniNews magazine.