When fairy tale roles become reality
Growing up in Taranaki, Imogen Kerr was about as far from the cosmopolitan world of the international art trade as it was possible to get.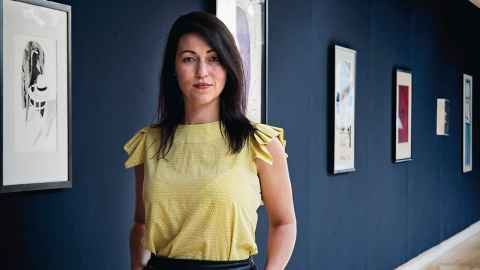 Today the University of Auckland graduate is a Director at Christie's in London, one of the world's most famous auction houses, specialising in Impressionist and Modern Art.

Imogen was named on the 2019 University of Auckland 40 under 40 list, which recognises forty exceptional graduates who are making a significant contribution to their field and community.

Given the University graduates some 10,000 students each year making the list is a significant achievement.

Imogen holds a Bachelor of Arts and Bachelor of Fine Arts, and says the opportunity to work for Christie's was a dream job for her, as for many lovers of art and its history.

"I loved the auction realm, having earned my stripes at Webb's very early on, and being in the wondrous metropolis of London, it had to be Christie's," Imogen says.
I am very fortunate to see some of the most extraordinary works of art during the course of my daily life.
"Some people keep paintings for life while others find their focus changes and develops as it goes along and it's our role to assist in the management of those collections, selling when the time is right, providing information and assistance to buyers."
Other prominent alumni named on this year's list were Bachelor of Arts graduate Anna Robinson, a researcher and co-ordinator for the UK Parliament's All-Party Parliamentary Group (APPG) on Global LGBT+ Rights; and Engineering graduate Craig Piggott, the CEO and founder of Halter, which uses clever automated technology to help farmers shift and monitor herds of cows.
The list also named Fonterra's youngest General Manager, 28-year-old Priya Singh (BCom, BSc); and Pania Newton (LLB, BHSc) who  has led the battle for the preservation of Ihumātao.
The University of Auckland's annual 40 under 40 list recognises many of today's high achievers are making huge contributions be it to business, technology or a social good before the age of 40.