Professor Peter O'Connor applies his theatre expertise beyond our shores to generate hope in homeless communities in Los Angeles.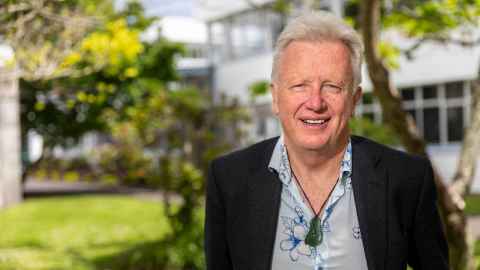 Los Angeles might be one of the richest cities in the world, but it's also the site of Skid Row where thousands of homeless people live in makeshift shelters within a 50-block area. 
Based at the University's Faculty of Education and Social Work, Professor O'Connor is currently in Los Angeles creating a show with 25 Skid Row residents who will be paid as professional performers.
He has taken up a residency at the Museum of Contemporary Arts (MOCA) where he will be working with other creative talents from the Los Angeles Poverty Department (LAPD), the Skid Row Housing Trust, Urban Voices, Piece by Piece and My Friends Place to devise a show in just one week.
These organisations have long records of serving the people of Skid Row and are committed to reminding the city that Skid Row isn't the problem, rather a symptom of the wider issue of human greed that has also had an impact in New Zealand.
Professor O'Connor says the level of human misery on the streets of Los Angeles "is like visiting a war zone".
"The abject poverty and loss of hope in the faces of so many is deeply impacting. And yet in the midst of that are these arts organisations doing extraordinary work rebuilding community, creating moments of beauty that act as an antidote to the ugliness of people's lives."
He says the Museum of Contemporary Arts opening its doors to arts organisations who work with the homeless reinforces the importance of understanding that everyone who lives in Los Angeles is part of its community.
Professor O'Connor is on the board of the Creative Thinking Project and has close to 40 years of experience creating theatre in prisons, psychiatric hospitals, with the homeless and in earthquake zones.