Celebrating the International Day of Women and Girls in Science
We ask some of our women in engineering about their experiences and hopes for the field.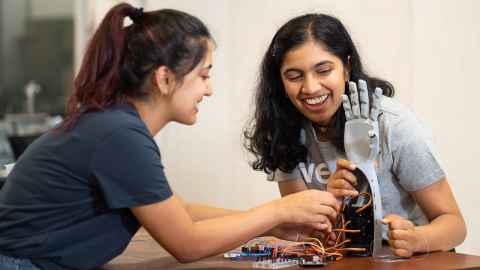 Held every year on 11 February, the International Day of Women and Girls in Science was established by the United Nations in 2015 to recognise the important role women and girls play in STEM. It also reminds us of the need for full and equal access to participation in science and technology — in line with UNESCO's global prioritisation of gender equality.
As Te Herenga Mātai Pūkaha continues to work towards our goal to increase our number of wāhine studying engineering, we celebrate today by featuring five women who are taking on different roles — from students to staff — in our distinct Engineering departments.
Mikayla Stokes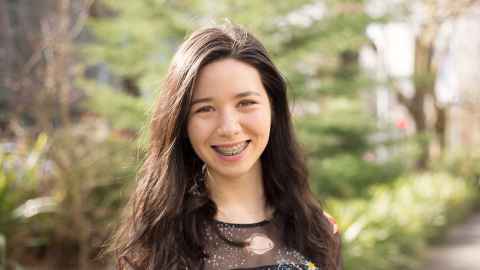 Part II student in Mechatronics Engineering and Founder of TechGirlsNZ
Department of Mechanical Engineering
"Throughout school, I was always told by my classmates that STEM was only for boys. Some people were mean, would tell me that I'm weird, and that I couldn't do things because I was a girl. I was not given much support as a female student pursuing STEM until I got to university, and never had many female STEM role models I could look up to or could see myself in their shoes. I initially didn't do very well in these subjects and struggled to connect with their purpose.
"Once I found a real life application of STEM through robotics and inventing however, the formerly boring classes became my favourites. What I love about studying Engineering is that every single day we get to see the application behind everything we are learning, such as how it can be used to solve specific problems and create solutions.
"Engineering can apply to almost anything and to be an engineer, you don't need to be a crazy smart genius. You just need to be passionate about solving problems, and be able to work with all kinds of people.
"Everyone struggles with different things, and your journey is not about comparing yourself to other students, so focus on enjoying the exciting challenges and the experience of learning something new every day.
"Say yes to opportunities, apply to as many things as you can, and get involved in community and volunteer organisations. All of these are going to help you build your skillset, communication skills, and confidence.
"What I hope for the future generation of students is that they're able to grow up without having stereotypes pushed on them, and for any stigma from being a woman in STEM removed. Rather than putting people down, embrace their ideas, creativity, and passion, and work together to help solve problems and make the world a better place."
Syeda Wishal Bokhari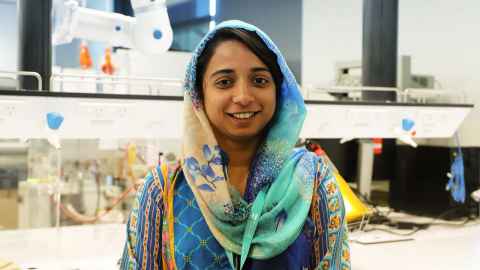 PhD Candidate
Department of Chemical and Materials Engineering
"On the International Day of Women and Girls in Science, I would like to acknowledge and pay tribute to all the amazing women researchers in the world. STEM subjects are innovative and extremely interesting, and they enable you to shape your imagination into reality.
"My research is on the development of supercapacitor systems for high performance energy storage and conversion devices. More specifically, I work with graphene-based hybrid electrode systems as active electrode materials for supercapacitors. These hybrid electrodes take advantage of high surface area and excellent conductivity of graphene, and intrinsic capacitance of the metal oxides nanoparticles. The overall nanocomposite offers a well formed mesoporous network which facilitates the charge transport during electrochemical cycles, thus resulting in a high energy-power density and long cycling life. This research is just one of the examples of engineering that contributes to a more sustainable world.
"This journey is challenging yet rewarding, and as a woman, I'd encourage young girls to take up this journey and enjoy the most of it, if it is your passion. When I look back to the primary stages of my research, there were very few women scientists; it is so pleasing to see an increased number of outstanding female scientists around the world today. I am hopeful that we will see more and more women in STEM and together we will make this world a better place for our coming generations."
Dr Sandeeka Mannakkara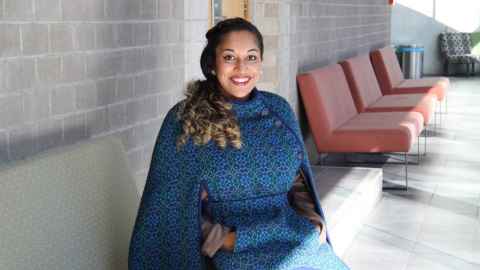 Lecturer
Department of Civil and Environmental Engineering
"Seeing my dad as a dynamic civil engineer working on large construction projects around town inspired me to pursue engineering. His passion, stories and enthusiasm intrigued me, and visibly seeing the impact his work was having on our surroundings made me certain that I'd like to pursue a career that helped large communities.
"The most notable challenge I faced then was the lack of information about the potential for a career in engineering in the girls' school I went to. Because I was good at maths and physics, teachers did mention that engineering could be a good pathway for me, but there were no female role models and no interest from my peers to pursue engineering. It felt like a solo effort. Sure enough, I was the only girl from my year to go to engineering school.
"Upon starting my career as a structural engineer, I became interested in the humanitarian engineering space and returned to complete my postgraduate study focusing on post-disaster reconstruction and recovery. I continued to follow my passion to help communities in need, and to acknowledge the wider role engineers have in society to consider people's social and economic needs in developing better living conditions. I ended up on a research journey that led me to working in many cities in the Asia-Pacific region to improve community resilience, disaster risk reduction, pre-disaster planning, and climate change adaptation.
"Women in STEM professions have grown considerably, and will keep growing, so I encourage young girls to not be afraid and explore a career in STEM as a serious option. There are no limitations on where a career in STEM can take you. A job in STEM does not mean you will be stuck doing maths or be hidden away in a lab.
"There are so many exciting opportunities and novelties in this area, so I urge girls to learn more and explore their interests. I also strongly recommend finding a mentor, or having a chat with women who are involved in interesting STEM careers to open up your horizons, get fresh perspectives and be part of a support network.​"
Soriya Em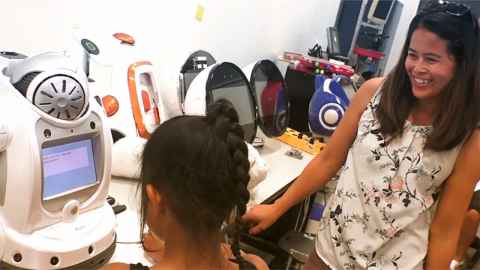 Centre for Automation and Robotic Engineering Science Research Centre Manager
Department of Electrical, Computer, and Software Engineering
"My day job involves working on projects, proposals, and plans that help our engineers and researchers — from undergrads to postdocs and Professors — acquire and manage funding to do research in robotics, automation, and sensing that are innovative and inspiring.
"One of the things I love the most about the role is seeing the creative problem solving! It is exciting to work with clever roboticists that constantly challenge what we think is possible, and also their drive to affect human lives in a positive way. It's also exciting to see engineers working with non-engineers — that is where the magic happens! Our research isn't just about robotics hardware and software. It's about helping society and the environment. It's awesome to see the end results: older people using robots to help them, robots transforming how we traditionally do things in orchards and vineyards, and so much more.
"I get to be a fly on the wall when a real-world problem or research question gets proposed, and the experts put their heads together to come up with solutions. It's truly allowed me to see how engineering gives you an opportunity to use your curiosity to make a real change in the world.
"My hope for the future in relation to gender equality in STEM is that there won't be a need to refer to this as an issue. I think it's important that young women can just go for it! Forget about the male stereotypes, because your involvement helps others see that diversity is of high value, and urgently needed in engineering."
Professor Rosalind Archer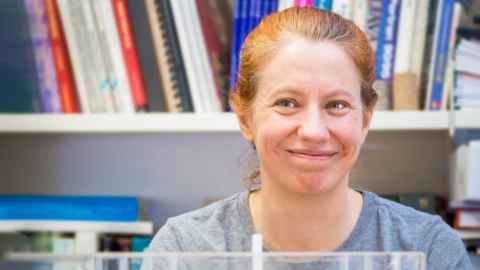 Head of Department of Engineering Science and Head of the Geothermal Institute
Department of Engineering Science
"I enjoy working in engineering because it gives me a way to make a positive impact in the world. My personal research strength is computer modelling of fluid flows in underground geothermal reservoirs, and most of my work focuses on renewable energy.
"Growing up, I never saw myself as an engineer, and had little awareness of what engineers did. However, a (life-changing!) side comment made by a panelist at an event promoting study opportunities in Science made me think Engineering might be for me.
"Engineering is now, I believe, much more inclusive than when I first started studying it. There are some outstanding diversity champions in the profession. However, unconscious biases still remain — I have moments where I disrupt people's assumptions because I don't look like a stereotypical Engineering Professor. I've been mistaken for an Executive Assistant, Marketing Assistant, or even a student!
"I hope STEM's inclusivity journey continues so that anyone and everyone could see themselves as a future STEM professional in an environment where they could 'bring their whole self to work'. I believe the impact engineering makes in the world will be maximised if engineers are truly representative of wider society.
"My advice to young women thinking of a future in engineering is to enrol in an engineering degree regardless of the expectations of friends or family. My engineering degree has made the world my oyster (I've travelled to at least 55 counties in the world, often for work), and given me a career that does things that I believe make a difference in the world."
Upcoming Women in Engineering events
Engineer Her Future: 14 May 2020
Enginuity Day: 16 July 2020