Women in Engineering Summer Camp welcomes year 12 students to campus
We recently hosted 32 students for a two-day summer camp that helped them make connections and see the fun that exists in exploring engineering concepts.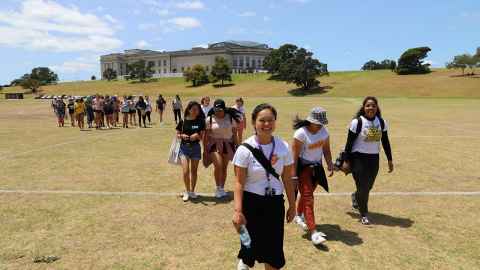 The students were mostly from Auckland, but a few had made their way down from Whangarei to take part in the camp. All of them had just finished Year 11 and are currently preparing to start their penultimate year of school. It's an important time where many are considering their future career and study options, which is why the camp focused on showing engineers as people who can make a difference in the world.
The day started with the students meeting in the atrium of our brand new Engineering building, before being officially welcomed in a powhiri at the marae on campus. This then led into their activities that would be the main focus of the two-day event. Themed around the idea of saving and rebuilding Auckland in the wake of a natural disaster, each activity used real engineering skills and concepts in a way that was fun, engaging and hands-on.
Dr Caroline Jagtenberg, a Senior Research Fellow in Engineering Science, led the first activity which saw the students get in groups and try to plan optimum ambulance coverage areas on a map of Auckland. This was a model of the research work she is undertaking, equating the activity with a real-world application of engineering.
After lunch in the beautiful sunshine of the Auckland Domain, the group walked to our Newmarket Campus, home to a range of research groups and purpose-built machinery and testing equipment. In keeping with the day's theme, the students were tasked with building a multi-storey structure with a range of supplied materials. The groups then went head to head a competition involving small shake tables to see which structures could survive miniature earthquakes.
The next challenge was about sustainably restoring power to the city now the groups had (in some cases) successfully started to rebuild. The students had to construct what they thought would be the ideal fan blades to power a small electric motor. Once they'd completed their designs, each team had a chance to go inside our wind tunnel with their creation, and measure the volts generated by their spinning blades. It was a chance for them to see and interact with an impressive piece of our research infrastructure, while learning about physics in a hands-on environment.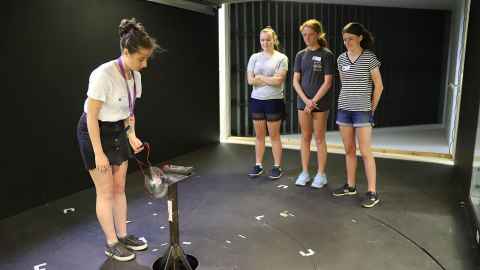 The students then returned to our city campus where they had the privilege of staying overnight in the marae. It was a fitting bookend to the day that started with them being officially welcomed into that very building.
The final day of activities had a sustainability theme. The students were given a battery and motor and encouraged to design electric vehicles to compete in a drag race. The challenge was held in one of our Multi-Disciplinary Learning Spaces, giving the group the chance to see some of the spaces they'd be learning and working in if they decide to study engineering. The session ended with a presentation from the world's fastest female motorcyclist Eva Hakansson, who until last year was a lecturer in our Department of Mechanical Engineering. She explained her approach to goal-setting and how that's driving her to design and build an electric motorcycle that's ready to chase down top speed records. She also talked about the skills that engineers develop, and how these are valuable not just in a range of lucrative career options, but for personal development and reaching goals.
Finally, the challenges ended with one that was about 3D printing a sustainable meat alternative. Students were able to design the consistency of their "meat" and test how it might behave in the printing process. Dr Sophia Rodriguez shared her career journey here, describing the way alternative food products are providing career and research opportunities for materials engineers.
We invited parents to attend the camp's final prizegiving, giving them a chance to find out what their daughters had been up to and talk to our staff about any study-related questions they may have. Family plays a huge role in influencing study and career options, and there are more events throughout the year where the families of school students can learn more about what it would be like for their children to study Engineering.
A post-event survey found that 81 per cent of the students who attended the summer camp were now more likely to study Engineering as a result. To keep the connection between the faculty, the students and their peers, each student had a buddy to keep in touch with throughout the year as they approach the final years of high school and get closer to making that all-important choice.