Graduate's challenge: let's reimagine education in Aotearoa
When Maia Hetaraka walked across the stage yesterday at the University of Auckland's Tai Tokerau graduation, she was completing a long and challenging journey.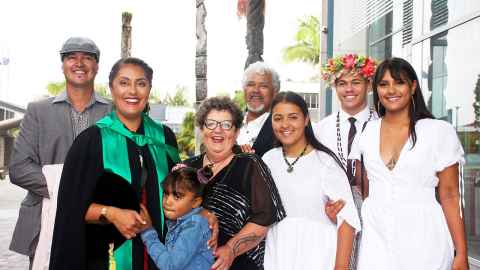 Not only was she only the second person to receive her Doctor of Education (EdD) at the northern ceremony, she also gave the graduation address, an honour not lightly bestowed.
Already a lecturer on Tai Tokerau's three-year Bachelor of Education (Primary) course, Maia's doctoral research has focused on a Māori education strategy called Ka Hikitia and its accompanying support programme for teachers, Tātaiako: cultural competencies for teachers of Māori students.
Produced by the Ministry of Education, its aim is to equip teachers with a road map for helping Māori students to achieve success as Māori under five key areas: Ako (practice in the classroom and beyond; Wānanga (communication, problem-solving); Manaakitanga ( values, integrity, trust); Tangata whenuatanga (place-based socio-cultural awareness) and Whanaungatanga (relationships with high expectations).
"My research investigated this document, but also the idea of 'cultural competence' and what that might look like and mean, especially within the context of our history of colonisation," she says. She hopes her research will contribute to "the reimagining" of education for Māori in English-medium education by bring to the fore Māori knowledge, perspectives and language.
"I think this re-imagining requires many things, including the fact that we need to think carefully and differently about the language we use, as it carries so much meaning. It means valuing Māori perspectives and knowledge as being just as important in education as Western perspectives and knowledge; and it means we have to be brave and creative and accept that there is room for improvement in how we 'do' education in this country.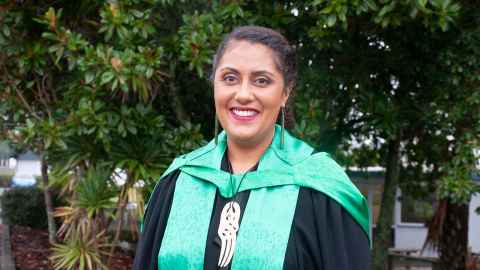 And embarking on a doctorate as a solo parent of three children – although she now has a supportive partner – suggests she is not short of bravery herself.
"Like everybody I've had many challenges," she says, "mainly around balancing life and work. I have three daughters all at very different ages (21, 15 and seven) and I've been a single mother most of their lives, so that comes with its challenges and rewards. I've also had a significant health challenge to overcome in the last year, which is ongoing, but I'm much better."
She "didn't consciously plan" for a life in academia but has always loved to learn. "After completing my Bachelor of Education it just seemed like a logical continuation to do postgraduate study to complement my teaching practice."
Living, working and studying in the north where she grew up, continues the strong roots her whanau have to the region, where her father, Te Warihi Hetaraka, is highly respected as a master carver and kaumatua.
"My parents and my children have probably had the most influence on my direction. My mother is from Ngāi Tahu and has lived in the north for around 45 years and my father has strong links to many northern iwi, as well as Tainui. His expertise as a carver, as well as a holder of cultural knowledge, is often called on by many."
She says both her parents have always had high expectations of her and always set excellent examples. "They also raised us to be comfortable in te ao Māori, as well as in Pākeha contexts, which has given me stable grounding and confidence in myself."
She says speaking te reo completely impacts how one sees the world "because when you understand te reo, you begin to understand Māori perspectives and ideas about the nature of the universe".
"It allows you to 'think' in Māori, because it's more than a language, it's a viewpoint, a different logic and a way of thinking about relationships that are different to Pākeha ways of thinking."
We have to be brave and creative and accept that there is room for improvement in how we 'do' education in this country.
Maia has put her relationship with her children at the centre of everything she does. "My children have always been my motivation, even when I haven't wanted to do something, I'll do it if my children will benefit."
She's looking forward to showing her daughters the end result of studies she started in 2002, when her oldest was only three. "I want them to see that hard work, and yes, it's very hard work, is worth it. I'm also looking forward to feeling like this part of my journey is complete."
Thinking about her graduation speech, Maia says she was going to talk about her own research, but changed her mind to make it more generally about her own teaching and learning journey.
"Hopefully the graduands will see that all of our journeys are important because they make us who we are, and that will determine the teachers we become. I hope the more confident they are in themselves, the more confident they will be as educators, because that will impact positively on their students."
In this election year, if she were the Prime Minister, what would she change? "I would change people's hearts and minds in terms of how we interact with each other, but I'm afraid it would takes greater powers than that of a PM to do that!"
And a final piece of advice for anyone wanting to follow her path?
"Keep asking questions, focus and work really hard. Don't be too attached to all of your ideas and trains of thought, because you need to be prepared to change your thinking, and sometimes your beliefs. If you can do this, you will grow."