Lighting up the foyer of the ABI
A interactive light installation created for the Ellen Melville Centre in Freyberg Place and to celebrate the 2020 Auckland Pride Festival how now been installed on the ground floor of the Auckland Bioengineering Institute (ABI).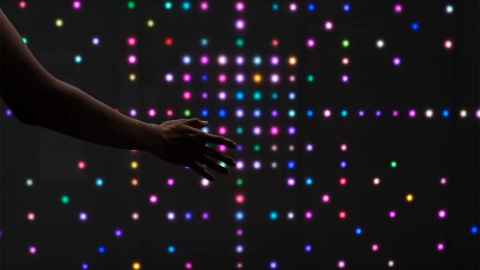 As in Freyberg Square, it is an interactive display, comprised of over 2,000 LED lights, each of them individually controlled. People passing by are invited to visit the foyer of the Institute and play in the light.
However rather than interact through your phone (as in Freyberg Square) here you can shape the patterns of light by waving your arms and moving your feet in front of the installation. The orange footstep stickers in front of the screen mark the spot to stand to activate the work.
The installation has in many ways found its rightful home, having being created by a team from the Augmented Human Lab at the ABI, with fabrication done by the Faculty of Creative Arts and Industries (CAI).
Light installations are not so much of a departure for his team, says Professor Suranga Nanayakkara, founder and head of the Lab. He and his team have developed numerous technologies to enhance human experience, including the Finger Reader (which allows the vision-impaired to 'hear' text) and Muss-Bits (which lets hearing-impaired 'feel' music).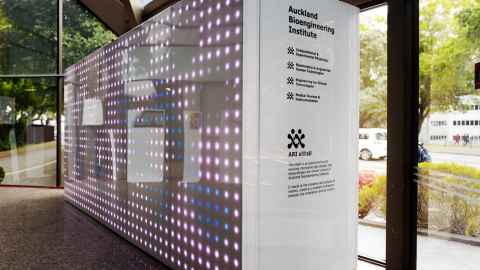 This is the second iteration of the installation originally commissioned by Auckland City Council for the Pride Festival, but is the fifth large-scale installation the team has done, with three in Singapore (one of which included 1,800 floating LED lights in the Singapore River) and one that illuminated Wellington's waterfront lagoon.
Professor Nanayakkara describes the ABI eWall as an experimental and evolving interactive light display that "demonstrates the vibrant culture of the Auckland Bioengineering Institute, creating the chance for an interaction between the installation and its visitors".
He is one of the inventors and innovators who were invited to appear in WOMAD 2020, on its newest stage, the STEAM Lab, aimed at capturing the excitement and wonder of science, technology, engineering, arts and maths (STEAM).
Technology, he says, can be a lot of fun. "Interactive public art installations are a great way to bring technology closer to people, to highlight just much technology is changing our thinking about design and how it can be used in a creative way."