Choir online – therapeutic singing during isolation
The Centre for Brain Research's CeleBRation Choir hasn't let the lockdown stop them from singing together, as they use technology to connect and practise.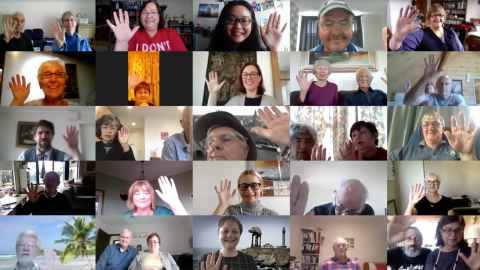 Working with those who have neurological conditions underpins our work at the CBR; the research we do today aims to have a direct, positive impact on the lives of those living with a neurological condition in the future. One such study focuses on a social choral singing group, the CeleBRation Choir, which meets on a weekly basis for social and therapeutic singing.
The choir began at the same time as the Centre for Brain Research – it's more than ten years old now and continues to grow each week, playing an integral role in the confidence and abilities of those who join. Using a variety of music therapy techniques, the choir is ideal for those who are living with a neurological condition such as Parkinson's, aphasia or dementia, or to extend rehabilitation after a stroke stroke.
The sessions are led by registered music therapist and doctoral candidate Alison Talmage and are as much about the series of exercises and songs they sing together as they are about the social aspect. Each week Alison is joined by a group of nearly 60 people who have a neurological condition or who are there to support a family member.
During the current Covid-19 lockdown that we are all in together, getting together physically is not appropriate. Across the country, teams of people are finding new ways to connect and collaborate from the safety and seclusion of their homes. The choir is no different and they're committed to coming together each week to sing and share using the popular group tele-conference tool Zoom. To stay connected they have added a shorter Friday afternoon catch-up to their regular Monday afternoon sessions.  
Alison is really impressed by the dedication of the team who are making the most of the isolation.
"Singing together online is a challenge because of the unavoidable sound lag. We mute everyone, so they only hear themselves and me, but can watch everyone else singing along. Between songs we unmute for another chat or some exercises. Our band members Amrita (piano), John (guitar) and volunteer Sharyn (viola) have also played for us – we are working on the sound quality and making the most of challenging times."

In the first week, around 25 members joined the online session and 30 in the second week.  
I'm impressed with the way people have accessed the technology or had some family support to do this. It is more challenging for some people now self-isolating alone who need support with accessible technology, but there is also an option to phone in if an online connection is unavailable.
Being in isolation is important for the health of the community as we look to flatten the curve of Covid-19, however it can be incredibly tough on our mental wellbeing. Being able to move the choir to an online space is allowing the group to stay connected and keep part of their regular routine intact.
"I asked how they are finding online choir. One of the members, Desiree's response was that it's better doing it online than not doing it at all and this was met with a chorus of 'hear hear' by the other members, so I am pleased we're giving it a go. Humour is as important as the music in keeping spirits up. We sang Happy Birthday to two members this week, but in lieu of cake I could only use a tomato to hold the birthday candle!"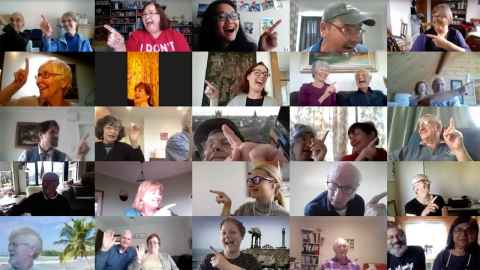 "Members are keeping their spirits up and have exchanged phone numbers so they can call each other and check in during the week. One of our members, Tony, who has been with the choir since the beginning following a stroke has an exercise bike and is aiming to keep fit. Amrita, one of our members with dementia has been using the time to play piano and complete some colouring books. Ross has been talking to his grandson each night on Skype and checking on his Lego creations. Across the members, I am really impressed by how well they are supporting each other and staying well."

You can follow the CeleBRation Choir on their Facebook page; the members would love to see your messages of support sent through, interesting articles or any topical lyrics to songs they might know.
As a choir they have adapted the lyrics – choir member Elizabeth wrote "Little fantail under my trees, freely singing inches away from me."
It's quiet at home, but I'm feeling great,
As the choir still sings, having fun with everyone.
Level 4 (was 3), everything is shut;
Stay at home, make your own tea (or coffee).
Alison is preparing some short videos and choir recordings for people to use at home. These will be shared online when they are completed.