Lab staff put to the tests
University of Auckland staff are working closely with the Auckland District Health Board to increase capacity for testing for the COVID-19 virus, including repurposing laboratory space and accredited laboratory staff volunteering to do the tests.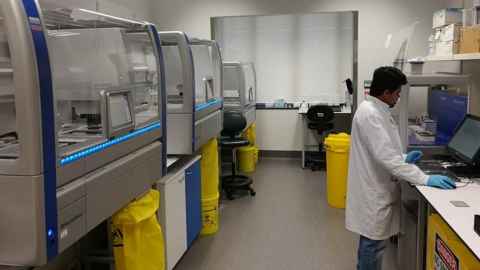 This work is one of many University projects around COVID-19, including modelling of the disease, community tracing, mental health care and caring for the elderly.  
Over the past fortnight, the University's Grafton Clinical Genomics facility has been repurposed to contribute to the Ministry of Health's target of 4500 tests a day.  
Faculty of Medical and Health Sciences Dean, Professor John Fraser, says he is enormously proud of the work being done by staff and alumni to deal with the pandemic.
Professor Fraser, an infectious diseases scientist, says the national course of action is absolutely the right thing: "I, for one, am confident we have not left it too late and we will start to see a flattening of new COVID-19 cases in three to four weeks, but this will only happen if we each play our part and look to eliminate all means of transmission. You only need to look at what China achieved with 1.4 billion citizens to ask why we can't achieve the same in our isolated islands but always be mindful of the fact that physical isolation does not mean social isolation."
The Grafton Clinical Genomics team, led by Jason Copedo, has worked closely with LabPlus to scale-up COVID-19 molecular diagnostic testing. This includes 14 university staff, who possess the necessary qualifications, volunteering to assist in a series of teams expected to work every day to meet the onslaught of demand for molecular testing.  
The University, which partners with the DHB as part of its Academic Health Alliance, has committed laboratory space, specialist equipment and skilled people to this important task. Being able to build these robust and functional partnerships off the back of the philanthropic funding has been integral to our ability to respond speedily and with a high degree of trust in these difficult times, including being able to repurpose the Grafton Clinical Genomics facility for COVID-19 testing.
Grafton Clinical Genomics (GCG) and its partner facility, the Auckland Regional Tissue Bank, have received generous funding from an anonymous donor over many years. The NextSeq sequencing platform, funded by the donor, is used for research purposes and to screen patients with a specific recurrent blood cancer. This sequencing is a significant component of Grafton Clinical Genomics and has allowed the University to develop an excellent working relationship with the Auckland DHB molecular diagnostic lab.  The donor has also provided the establishment funding for the Auckland Regional Tissue Bank which has also developed into an extremely successful partnership between the Auckland DHBs and the University.
Professor Fraser paid tribute to the wider work being done across the community and is particularly proud of the role alumni are playing in this, including Director-General of Health Dr Ashley Bloomfield, who completed his medical degree at the University of Auckland. Says Professor Fraser: "For those of you who will be in the frontline of healthcare, our clinical academics, nurses, pharmacists and others, we all acknowledge the selfless contribution you are making and the strain that you will be under as hospitals and General Practices wait for the expected surge of COVID-19 patients – kia kaha."